Anita Hopt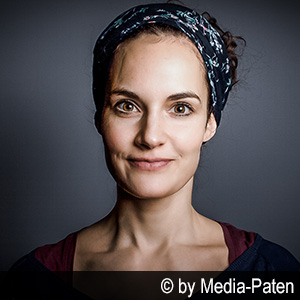 Synchronstimme von:
Melissa Rauch
Synchronisiert auch:
Alexis Bledel, Bianca Lawson, Shiri Appleby, Aubrey Plaza, Brie Larson, Laura Spencer, Kristen Wiig, Eden Sher, Emerald Fennell
Über

Anita Hopt

:
Anita Hopt wurde am 3. Oktober 1981 in Rotenburg an der Fulda geboren und ist als Schauspielerin, Sängerin, Hörbuch- und Synchronsprecherin tätig. Bekannt ist ihre Stimme vor allem in der Rolle der Bernadette Rostenkowski (Melissa Rauch) in der TV-Serie "The Big Bang Theory". Von 2000 bis 2003 hatte Anita Hopt an der Stage School in Hamburg in den Fachbereichen Dance und Drama gelernt. Als Sängerin war sie in Bands wie "4 to the bar", "Queensgang" und "Ladies go Diva" aktiv. Anita Hopt spielte an Theatern in Kassel (West Side Story), Braunschweig und Hamburg. Ihre Singstimme leiht sie vor allem Barby in der gleichnamigen Animationsserie. Als Sprecherin synchronisierte Anita Hopt verschiedene Rollen in "Numbers – Die Logik des Verbrechens", "Claymore" oder auch "The Wire". Zudem ist sie als Werbe- und Hörbuchsprecherin zu hören. So sprach Anita Hopt die Hörbücher "Flowertown – die Sperrzone" und "Faking it – Alles nur ein Spiel" sowie "Finding it – Alles ist leichter mit dir".
Filme mit der Stimme von

Anita Hopt

:
Film
Rolle
Schauspieler

Ines

Leslie Bevillard

Edith Crawley

Laura Carmichael

Kimberley Doyle

Callie Cooke

Lady Edith Crawley

Laura Carmichael

Mira

Alicia Vikander

Bernadette Rostenkowski

Melissa Rauch

Abigail Hobbs

Kacey Rohl

Hildy

Julie McNiven

Marin Morell

Bianca Lawson

Lyla Dvorak / Lyla Winston

Winter Ave Zoli

Itori

Kang Ji-young

Shelby Pace

Camila Mendes

Det. Dani Powell

Aurora Perrineau

Min-A

Park Yoo-Rim

Jenny Aquila

Annaleigh Ashford

Melanie

Melissa Rauch

Lady Aberlin

Maddie Corman

Bethany

Melissa Rauch

Sally Ann Marina

Hilary Jardine

Hildy Ostrander

Annaleigh Ashford

Mum

Fleur Keith

Irma Leopold

Samara Weaving

Zatanna

Camilla Luddington

Ginnie

Analeigh Tipton

Jessy Glaser

Jessi Klein

Megan

Leslie Bibb

Dilara

Sophia Katos

Samantha

Rebecca Ray

Veronica Lodge (1. Stimme)

Camila Mendes

Moanica D'Kay

Cristina Milizia

Susie

Carla Woodcock

Griselda

Sandra Criolani

Anaïs

Laura Verlinden

Jenny Matthews

Jessalyn Wanlim

Meghan

Jamie Chung

Stacey

Ashley Dyke

Freckles

Stephanie Beatriz

Meghan

Jamie Chung

Frenchy

Carly Rae Jepsen

Annie Fenton

Nichole Bloom

Linda

Rebekkah Farrell

Amelia Prowse

Georgia Henshaw

Carly

Ali Ahn

Mylene Cruz

Herizen F. Guardiola

Maddy Stevenson

Laura Carmichael

Betsy Schenck

Jamie Anne Allman

Danya

Tasie Lawrence

Lynette Winters

Laura Wiggins

Abigail

Elizabeth Henstridge

Juf Ietje

Birgit Schuurman

Joslyn

Mayko Nguyen

April

Rachelle Gillis

Elizabeth Butler

Juri Kimura

Sumi Sen

Shelby Rabara

Moanica D'Kay

Cristina Milizia

Morgan

Celina Martin

Cecilia

Camilla Luddington

Cordelia

Ingrid García Jonsson

Colleen

Kate Reinders

Aja

Hayley Kiyoko

Sue Schnell

Leeann Tweeden

Larissa

Breanne Hill

Befehlshaberin

Emerald Fennell

Janie

Morgan Wolk

Crystal

Alexandra Merle

Hope

Melissa Rauch

Miranda

Bea Santos

Chelsea

Sarah Butler

Carol

Chastity Dotson

Bethany

Eve Harlow

Maggie Sawyer

Floriana Lima

Melu Loreley

Haruka Yamazaki

Cindy

Eileen O'Connell

Ayano Kousaka

Youko Hikasa

Ivy Bolton

Jodie Comer

Morgan Sher

Devin Kelley

Amelia Prowse

Georgia Henshaw

Kate

Shauna Macdonald

Meifeng Sakura

Yurika Kubo

Ai Hibiki

Risa Taneda

Claire

Nicole Taylor Wedel

Louise de La Vallière

Sarah Winter

Vivian

Isabella Acres

Stripes

N. N.

Emma Blakemore

Alissa Skovbye

Debbie

Morganna May

Alexa Cooper

Tamara Duarte

Ragna

Thora Borg Helga

Lt. Alisha Granderson (2. Stimme)

Christina Elmore

Brianne Donaldson

Halley Feiffer

Haruka Shibazaki

Reina Ueda

Linca

Ami Koshimizu

Tama

Misaki Kuno

Beatrice

Melanie Lynskey

Nancy Truman

Nancy Truman

Deena

Lauren Lapkus

Kanako Fujishima

Nana Komatsu

Hannah

Sam Aotaki

Elise

Tiffany Panhilason

Carole Robertson

Shauna Macdonald

Lisa Russell

Vicki Glover

Marie

Melissa Rauch

Natasha Romanoff / Black Widow

Clare Grant

Nami

Maaya Sakamoto

Marta

Kellie Shirley

Debbie

Morganna May

Mariko Yashida

Tao Okamoto

Maisie

Jane McGrath

Heidi

Carrie Wiita

Khali Bhatt

Agam Darshi

Otome Yanagiya

Yuka Iguchi

Yumina Ooshima

Marina Inoue

Briar Beauty

Kate Higgins

Michelle

Victoria Baldesarra

Jane

Candice Nunes

Ruth

Inma Cuesta

Denise

Wanetah Walmsley

Sarah

Rebecca Night

Alexa

Autumn Dial

Melanie Chisholm

Melanie Chisholm

Jackie

Annaleigh Ashford

.GIFfany

Jessica DiCicco

Amanda King

Tamara Feldman

Lucy

Amy Pemberton

Dee Dee

Lauren Lapkus

Web Dotcom

Camille Serceau

Snow

Shanley Caswell

Radhika Darshan

Aurora Perrineau

Kristen

Ashley Bissing

Kristen

Celine Filion

Chikage Izumi

Kana Ueda

Kaori Kinoshita

Ai Kayano

Cosmetic Consultant

Helen Keaney

Lea

Adèle Haenel

Barbie (Gesang)

Jennifer Waris

Vera Bartels

Katja Herbers

Mrs. Xavier / Mystique

Beth Goddard

Yu

Sumalee Montano

Kelly

Margaret Laney

Élisabeth

Céline Sallette

Priss

Caitlin FitzGerald

Bridget

Lara Jean Chorostecki

Amy

Melissa Stephens

Ariana

Jacqueline King

Crickett Watts

Brandi Burkhardt

Lily Isen

Jeanne Kietzmann

Mrs. Xavier / Mystique

Beth Goddard

Kim

Alexis Bledel

TOB-Mitglied

Bianca Siavoshy

Lori Benson

Nadine Crocker

Serena Edmonds

Zanny Laird

Jas

Susannah Fielding

Wendy

Jasika Nicole

Aileen

Emmanuelle Chriqui

Maria

Elena Hurst

Erika Cho

Sophie Wu

Hotelzimmer-Nachbarin

Eliza Coupe

Lady Edith Crawley

Laura Carmichael

Renee

Crystal Reed

Christen

Joy Suprano

Haruko

Nozomi Sasaki

Shiori Sekine

Emiri Katou

Spitfire

Kelly Metzger

Prinzessin Ann

Aoi Yuuki

Dr. Noelani Cunha

Kimee Balmilero

Annie

Melanie Green

Anna

Miranda Rae Mayo

Casting Assistant

Jee Young Han

Adriana

Caroline D'Amore

Donatella

Martina Stella

Prinzessin

Louise Wallon

Marie

Sara Lazzaro

Autumn

Minka Kelly

Bella

Clara Paget

Lucy

Eden Sher

Echo

Ryô Hirohashi

Kaede Sakura

Megumi Nakajima

Black Mahagoni

Nicole Ari Parker

Anenome

Jane Barr

Eden Starling (Gesang)

Melissa Lyons

Kate Coleman

Michelle Duncan

Maya

Natasha Reese-Davies

Delia (Gesang)

Melissa Lyons

Jackie

Cristin Michele

Nellie Gamarro

Vanessa Martinez

Nellie Gamarro

Vanessa Martinez

Yasuko Takasu

Sayaka Oohara

Judith Myers

Hanna Hall

Sienna

Jamie Chung

Nicole

Tanya Chisholm

Jane Conolly

Anna Faris

Miho Shinogawa

Sora Matsumoto

Abigail Sims

Kelly Kruger

Chelsea

Brittany Curran

Akiko

Grey DeLisle

Prinzessin Annelise (Gesang)

Melissa Lyons

Toki Takatsuki

Yuuko Miyamura