Maria Koschny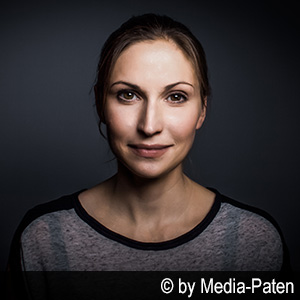 Synchronstimme von:
Jennifer Lawrence, Emilia Clarke, Emma Watson, Gemma Arterton, Olivia Munn, Mila Kunis, Mary Elizabeth Winstead, Carey Mulligan, Rose Byrne, Isla Fisher, Paula Patton
Synchronisiert auch:
Arielle Kebbel, Jessica Biel, Kristen Stewart, Tricia Helfer, Liv Tyler, Megan Fox, Adelaide Clemens, Moon Bloodgood, Peyton List, Anna Paquin, Hayley Atwell, Bryce Dallas Howard, January Jones, Olivia Wilde, Allison Janney, Blake Lively, Mary-Louise Parker, Elizabeth Olsen , Kate Mara, Zooey Deschanel , Amy Acker, Jessica Lucas, Elodie Yung, Sienna Miller, Emmy Rossum , Brenda Song, Kaya Scodelario, Veronica Ngo
Über

Maria Koschny

:
Maria Koschny ist die Tochter der Schauspielerin und Synchronsprecherin Katharina Koschny. Neben ihren Synchronrollen (vor allem Jennfer Lawrence) ist sie auch als Hörbuchsprecherin tätig. Für ihre Lesung des Buchs "Das Jahr, nachdem die Welt stehen blieb" erhielt Maria Koschny 2015 den Deutschen Hörbuchpreis als "Beste Interpretin". Auch in vielen bekanntne Videospielen ist sie zu hören, so unter anderem als Lara Croft in "Rise of the Tomb Raider" oder Athena in "Overwatch".
Filme mit der Stimme von

Maria Koschny

:
Film
Rolle
Schauspieler

Christine

Porsha Williams

Sheila Sim

Pearl Chanda

Giulia

Matilde Gioli

Claire Dearing

Bryce Dallas Howard

Tiffany

Zoe Chao

Katniss Everdeen

Jennifer Lawrence

Claire

Bryce Dallas Howard

Katniss Everdeen

Jennifer Lawrence

Katniss Everdeen

Jennifer Lawrence

Raven Darkholme / Mystique

Jennifer Lawrence

Sheila

Bryce Dallas Howard

Lucy Danziger

Paz de la Huerta

Danni Sullivan

Tara Reid

Natalie Vance

Chloe Fineman

Mary

Isla Fisher

Ginny

Emily Rudd

Elizabeth Elliot

Yolanda Kettle

Anna

Kristen Bell

Darcy Lewis

Kat Dennings

Miss Mills

Angela Giarratana

Sevgi

Boncuk Yilmaz

Sevgi

Boncuk Yilmaz

Megan Twohey

Carey Mulligan

Lorena Black

Zulay Henao

7ven

Amanda Cordner

Darcy Lewis

Kat Dennings

Edith Pretty

Carey Mulligan

Elizabeth 'Liz' Hansen

Mélanie Laurent

Heather

Christina Jackson

Andrea Singer

Iliza Shlesinger

Kate Dibiasky

Jennifer Lawrence

Maya Ibuki

Miki Nagasawa

Dahlia

Olivia Munn

Avery Castillo

Natalie Martinez

Ardelia Mapp

Devyn A. Tyler

Anna

Sinem Kavus

Souad

Soumaye Bocoum

Iris Montagu

Hattie Morahan

Caroline Wain

Andrea Riseborough

Cissy Davis

Iliza Shlesinger

Cassandra Thomas

Carey Mulligan

Helena Bertinelli / Huntress

Mary Elizabeth Winstead

Louise Shepard

Shannon Lucio

Rebecca Harkness

Tracee Chimo Pallero

Sara

Marie Poulová

Pepper Smith

Julia Chan

Idjaba

Manda Touré

Marianne Forster

Jessica Brown Findlay

Ruth Condomine

Isla Fisher

Mina

Maryam Moghadam

Raven Darkholme / Mystique

Jennifer Lawrence

Alison

Molly Bernard

Minnie

Isla Fisher

Grace Ballard

Gemma Arterton

Blair Helms

Brittany Snow

Lillian Weinberg

Lynn

Julia Beckley

Brittany Snow

Jessica Van Zyl

Avital Lvova

Louise Bergstein

Natalie Madueño

Julia Beckley

Brittany Snow

Liana

Stella Schnabel

Dominika Egorova

Jennifer Lawrence

Jade Wilson

Kristen Bell

Astrid Young Teo

Gemma Chan

Claire Dearing

Bryce Dallas Howard

Eaddy

Eaddy Kiernan

Dr. Freya Upton

Agyness Deyn

Kellnerin Marta

Lili Bordán

Selena Izard

Renée Elise Goldsberry

Patty Bowes

Kate Mara

Signe Lippestad

Lena Kristin Ellingsen

Grace Manning

Francia Raisa

Hope

Jaimie Alexander

Charlotte

Sabrina Ouazani

Viviane

Aïssatou Diop

Ms. Lint

Yara Martinez

Chloe

Brittany Snow

Nica

Fiona Dourif

Akiko Glitter

Christina Aguilera

Mutter

Jennifer Lawrence

Sarah Elliot

Janet Montgomery

Kiki

Kristen Bell

Evie Wilcox

Bessie Carter

Christi Davies

Brittany Snow

Miranda

Sarah Solemani

Claire

Kristen Bell

Lee Weathers

Kate Mara

Königin Elsemere

Hattie Morahan

Jodie Figgis

Isla Fisher

Lady Taria

Ruth Negga

Marta

Ingrid García Jonsson

Helen Justineau

Gemma Arterton

Shideh

Narges Rashidi

Maya Cruz

Olivia Munn

Grace

Bryce Dallas Howard

Laura Hastings

Isla Fisher

Claire

Annabelle Wallis

Raven Darkholme / Mystique

Jennifer Lawrence

Kiki

Kristen Bell

Lorena

Zulay Henao

Michelle

Brittany Snow

Königin Elsemere

Hattie Morahan

Aurora Lane

Jennifer Lawrence

Anushka

Cristina Rosato

Ariadna

Alba Ribas

Lucille

Paulina Gaitan

Emily

Francesca Reale

Brittany Gold

Tania Raymonde

Molly Carter

Yvonne Orji

Joy

Jennifer Lawrence

Gabriela Conlon

Genesis Rodriguez

Julie

Mamie Gummer

Ella

Mischa Barton

Keana Strzelczyk

Bitsie Tulloch

Chloe

Brittany Snow

Dorothy

Samantha Munro

Phoebe

Marissa Neitling

Frédérique

Stéphane Caillard

Aurélie

Laura Verlinden

Hadaly Lilith

Kana Hanazawa

Bathsheba Everdene

Carey Mulligan

Kelly

Collette Wolfe

Georgina Krampf

Olivia Munn

Ramsey

Anna Paquin

Harper Scott

Annie Ilonzeh

Anja Lott

Lesley Arfin

Katniss Everdeen

Jennifer Lawrence

Liz

Kiele Sanchez

Anne Morris

Rachael Taylor

Clara Murphy

Abbie Cornish

Anna Simons

Mary Elizabeth Winstead

Anna Howland-Jones

Kate Bosworth

Dia Cadence

Naomi Shindou

Velma Brown

Jacinte Blankenship

Addy

Bridget Regan

Romina

Érica Rivas

Roxy

Ramona Mallory

Brooke

Alice Eve

Deena Rain

Lisa Remillard

Jr. Jr.

Rye Rye

Leigh

Catalina Sandino Moreno

Serena Pemberton

Jennifer Lawrence

Fiona

Gemma Arterton

Constance

Tamla Kari

Detective Erin Lindsay (1. Stimme)

Sophia Bush

Barbara Kean

Erin Richards

Mary Yellan

Jessica Brown Findlay

Melanie

Rachelle Lefevre

Agent Isabelle Lacoste

Judith Baribeau

Daisy Buchanan

Carey Mulligan

Tara

Tanya van Graan

Harlow

Tanya Fear

Lauren

Jamie Chung

Merete Lynggaard

Sonja Richter

Fake Supergirl

Kristen Bell

Lindsay Lohan

Lindsay Lohan

Eilidh

Sara Vickers

Jean

Carey Mulligan

Bachelorette

Andrea Moore

Flugbegleiterin

Fuschia Sumner

Olivia

Jessica Lucas

Bibiana

Leonor Watling

Dounia

Lizzie Brocheré

Anna

Olivia Wilde

Nica

Fiona Dourif

Marilyn Sitzman

Bitsie Tulloch

Montana Moore

Paula Patton

Savannah

Kristin Booth

Edie Parker

Elizabeth Olsen

Nikki

Tania Raymonde

Noelle

Adrienne Bailon

Henley Reeves

Isla Fisher

Shell

Vicky McClure

Analisa

Nadine Velazquez

Fanny Ternan

Amanda Hale

Alexendra

Cécile Cassel

Dana

Rose Byrne

Darcy Lewis

Kat Dennings

Gretel

Gemma Arterton

Jordan Alexis

Madeline Zima

Agent Barton

Kumiko Konishi

Jennifer Walters / She-Hulk

Eliza Dushku

Jessica

Minka Kuustonen

Taylor Stappord

Brianna Brown

Daisy Buchanan

Carey Mulligan

Katrina Crane

Katia Winter

Brodys Mom

Angela Oh

Ahn

Veronica Ngo

Iris

Ruth Negga

Jill Jerard

Kristen Bell

Flugbegleiterin Maya

Gretal Montgomery

Chloe

Brittany Snow

Elissa Cassidy

Jennifer Lawrence

Allie

Annie Wersching

Michelle

Melissa Ordway

Jr. Jr.

Rye Rye

Margaret

Tracee Chimo

Nima

Jamie Chung

Agent Oh (jung)

Alice Eve

Christine Mendez

Taylor Schilling

Mary Todd Lincoln

Mary Elizabeth Winstead

Darcy Grainger

Erika Rosenbaum

Madison

Liv Tyler

Daniella

Olivia Wilde

Natalie

Olivia Taylor Dudley

Tricia

Kristen Bell

Casey Letter

Ashley Grace

Officer Lisa Nolan

Ruth Bradley

Elizabeth

Gemma Arterton

Ariana

Natalie Martinez

Amanda

Annika Marks

Josette François

Sabrina Seyvecou

Gail

Deborah Mailman

Chloe Roberts

Danielle Savre

Evelyn Graham

Zoë Tapper

Notfallärztin

Patricia Potter

Katie

Isla Fisher

Charlotte Walker

Aliyah O'Brien

Lila

Brittany Snow

Kelly

Linzey Cocker

Katy

Michelle Ryan

Sofia

Daniela Ruah

Dia Cadence

Naomi Shindou

Alais Pelletier Du Mas

Jessica Brown Findlay

Miriam Wu

Elodie Yung

Lily

Lily Chambers

Laura

Emilia Klayn

Carol Ferris

Blake Lively

Lady Thelma

Katie McGrath

Francesca

Francesca Piccinini

Raven Darkholme / Mystique

Jennifer Lawrence

Danni

Christine Smith

Sal

Carly Reeves

Kate Lloyd

Mary Elizabeth Winstead

Amber

Jamie Chung

Sam

Jennifer Lawrence

blonde Hexe

Rebekah Kennedy

Lauren

Jamie Chung

Darcy Lewis

Kat Dennings

DC Holly Lawson

Wunmi Mosaku

Angie

Olivia Munn

Juliette Silverton (2. Stimme)

Elizabeth Tulloch

Giulia Farnese

Lotte Verbeek

Sarah Linden (2. Stimme)

Mireille Enos

Amanda Clarke / Emily Thorne

Margarita Levieva

Cariddi Grimani

Margherita Vicario

Jenna Backstrom

Brittany Snow

Debbie Dazzle

Georgina Reilly

Lucia

Shiva Negar

Raven Darkholme / Mystique

Jennifer Lawrence

Carol Ferris

Jennifer Hale

Megan Harriman

Collette Wolfe

Zoe Rubenstein

Spielberg Sasha

Liz

Liza Lapira

Solara

Mila Kunis

Io

Gemma Arterton

Missy

Iris Almario

Kelly

Collette Wolfe

April Booth

Lindsay Lohan

Carol Reed

Haviland Stillwell

Danni

Kelly Brook

Bambou

Mylène Jampanoï

Winnie Gekko

Carey Mulligan

Rose Wilson

Andrea Riseborough

Lila

Tricia Helfer

Pauline

Caroline Dhavernas

Tamina

Gemma Arterton

Ramona Flowers

Mary Elizabeth Winstead

Brenda

Andrea Riseborough

Kris Fowles

Katie Cassidy

Marni

Kristen Bell

Qiao Hua

Wei Zhao

Molly

Alice Eve

Heather

Christine Lakin

Freundin #2

Magalie Lépine Blondeau

Nadia

Marguerite Sikabonyi

Robin Comley

Malin Akerman

Suzy

Ruta Gedmintas

Teri

Élodie Bouchez

Rayne

Natassia Malthe

Emily

Mamie Gummer

Ilze Kadegis

Elsa Pataky

Amy Pearce

Liane Balaban

Kathy

Carey Mulligan

Jenna Luther

Alexa PenaVega

Natalie

Dianna Agron

Katie

Karina Fernandez

Francesca

Francesca Piccinini

Claire

Noureen DeWulf

Samantha Bloom

Gugu Mbatha-Raw

Jill

Danai Gurira

Gerda Hoffner

Malin Crépin

Nadia

Athena Karkanis

Emma Rothschild

Jud Tylor

Denise Roy

Gabrielle Dennis

Sara

Lana Zreik

Annie Filkins

Maggie VandenBerghe

Grace

Carmen Ejogo

Ashley

Chloe Bridges

Megan White

Shoshana Bush

Lacey

Ari Graynor

Selina

Shirley Brener

Tisha

Mamie Gummer

Amanda

America Olivo

Marcie

Kelli Garner

Desiree

Gemma Arterton

Thea Clayhill

Lindsay Lohan

Nikita Wells

Liezl Carstens

Kelly Jones

Gemma Arterton

Carly

Blaine Saunders

Judith Winter

Vinessa Antoine

Michelle McCluskey

Lauren Lee Smith

Margaret

Janie Haddad Tompkins

Margaret

Janie Haddad Tompkins

Rose

Isla Fisher

Lieutenant Quigley

Camille Chen

Katie

Lucy Gaskell

Abby Mills

Elaine Cassidy

Shirley Fenette

Fumiko Orikasa

Nan

Shannon Chan-Kent

Agentin Strawberry Fields

Gemma Arterton

Amanda

Katie Cassidy

Lot Lizard

Krystal Vrba

Missy Chin

Camille Mana

Zoe

Kristen Stewart

Sookie Stackhouse

Anna Paquin

Alice Valko

Amy Rider

Sarah Graiman

Deanna Russo

Anna

Aimee Garcia

Ryne Waechter

Shannon Lucio

Amber Von Tussle

Brittany Snow

Gabby

Marcella Lentz-Pope

Mira

Aishwarya Rai Bachchan

Sarah Hite

Kailin See

Janie Kay

Tammy Hui

Brenda

Sarain Boylan

Starfinder

Moon Bloodgood

Ivy

Ellen Hollman

Ángela Vidal

Manuela Velasco

Carla Jean Moss

Kelly Macdonald

Fardart

Ali Larter

Yrsa

Leslie Zemeckis

Annabelle Shore

McKenna Jones

Andi Prendergast

Missy Peregrym

Jaime

Michelle Borth

Gwen Stacy

Bryce Dallas Howard

Kathryn Klarner

Jennifer Miller

Callisto

Dania Ramirez

Katie Vos

Jay Anstey

Emily Davenport

Gabrielle Anwar

Arya

Sienna Guillory

Dawn

Anna Cummer

Dawn

Anna Cummer

Lindsay Lohan

Lindsay Lohan

Kelli Presley

Katie Cassidy

Car Girl

Amy Jo Johnson

Barbie

Jennifer Finnigan

Bec Sanderson

Kate Bell

Natsumi Iriya

Mayu Asada

Shirley Fenette

Fumiko Orikasa

Diane

Lindsay Lohan

Molly Fuller

Kat Dennings

Dominique

Adrienne Bailon

Kathy Alva

Nikki Reed

Kathy Joyce

Jaime King

Laurie Pullman

Alice Greczyn

Marla Piedmont

Kat Dennings

Tiffany

Kimberly J. Brown

Schwester Beatrice

Lauren Cohan

Isabelle Melin

Nina Zanjani

Arashi

Akiko Hiramatsu

Angela

Delilah Cotto

Heidi

Tara Wilson

Shelby

Julie Gonzalo

Heather Hunkee

Arielle Kebbel

Martha Johnstone

Lori Beth Denberg

Chloe

Jessica Biel

asiges Mädchen

Jill Flint

Faith Domergue

Kelli Garner

Laura Chapman

Emmy Rossum

Cady Heron

Lindsay Lohan

Glorie Mountsier

LeAnna Croom

Abigail Montgomery

Saige Thompson

Willa Sheilds

Pell James

Schauspielstudentin

Alyssa Pridham

Susie Tomlinson

Amber Rothwell

Eve Pigeon

Ari Graynor

Bridget Simons

Kylie Leydon

Ziva David

Cote de Pablo

Marissa Cooper

Mischa Barton

Muffy

Ashley Eckstein

Amber

Brenda Song

Yuugao

Kumi Sakuma

Jamie

Jennifer Morrison

Rebecca 'Becca' Kotler

Rachael Bella

Daphne Tisch

Alicia Van Couvering

Officer Tina Hanlon

Paula Garcés

Meg Pryor

Brittany Snow

Ricki

Minka Kelly

Robyn Marquette

Sara Erikson

Jennifer 'Jen' Scotts

Erin Cahill

Josie Alibrandi

Pia Miranda

Amy Gardner

Mary-Louise Parker

Mika Uesugi

Hiromi Tsuru

Maya Ibuki

Miki Nagasawa

Cully Barnaby

Laura Howard

Ens. Ali McGinty

Jennifer Bransford

Hortensia

Kira Spencer Hesser

Maya Ibuki

Miki Nagasawa

Maya Ibuki

Miki Nagasawa

Muffy

Jenifer Landor

Maria Recamier

Francesca Gonshaw

Cui Ying

Niu Niu

Thursday

Kay Lenz