Roman Wolko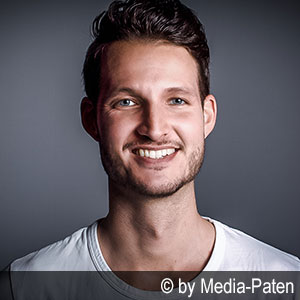 Synchronstimme von:
Alfie Allen, Anders Holm, Finn Wittrock , Miles Teller , Michael Welch, Nicholas Braun
Synchronisiert auch:
Jonathan Groff , Ryan Guzman
Über

Roman Wolko

:
Roman Wolko wurde am 1. Juli 1985 in München geboren. Der komplette Name des Synchronsprechers lautet ürbigens Roman Georg Maria Wolko. Mit sechs Jahren stand Roman bereits beim Bayerischen Rundfunk am Mikro und mit acht Jahren hatte er seinen ersten Synchronjob. Seit 1994 spricht Roman Wolko Dokumentationen, Games, Hörspiele und ist seit 2008 auch als Synchronregisseur und Dialogbuchautor tätig ("Guardians of the Galaxy"). Wenn er selbst am Mikrofon steht, synchronisiert Roman Wolko bekannte Schauspieler wie Miles Teller, Killian Scott, Nicholas Braun, Alfie Allen, Anders Holm u.v.m.
Filme mit der Stimme von

Roman Wolko

:
Film
Rolle
Schauspieler

Lucky Collins

Anders Holm

Mal Kennedy

Marque Richardson

Bulut

Ceyhun Mengiroglu

Paul

Matthew Giuffrida

Rafi

Samer Salem

Austin Powers (jung)

Aaron Himelstein

Cormac McLaggen

Freddie Stroma

Lieutenant Mitaka

Chris Geden

Theon Graufreud

Alfie Allen

Kalf

Ben Robson

DI Ravi Dhillon

Nikesh Patel

Diego Montero Castro

Lalo Brito

Jeff

Miles Teller

David

Jason Fernández

Abel

Kyle Bary

Tommy Torres

Jan Luis Castellanos

Charlie

Tom Ainsley

Lane

Aren Buchholz

Lt. Bradley 'Rooster' Bradshaw

Miles Teller

Luke Harrison

Finn Wittrock

Ryder Muybridge

Devon Graye

Victor

Alfie Allen

Davey Warbeck

John Heffernan

Matt Barnes

Matt Barnes

First Lieutenant Im Ji-seop

Seok-koo Son

König Dagread

Adam Croasdell

Omar Shanaa

Omar Ayuso

Ray Hall

Ray Nicholson

Malcolm

Harry Melling

Mike

Zach Avery

Mathieu Vasseur

Pierre Niney

Benimaru

Makoto Furukawa

Rowdy King

Luke Mitchell

Omar Shanaa

Omar Ayuso

Frachtaufseher

Simón Maestre

Jarel

Darryl Mundoma

Ben

Gauthier Battoue

Alexandre

Roby Schinasi

Blake Jensen

Brian Maierhofer

Cap

Dan Ewing

Harry Beltik

Harry Melling

Mr. Elton

Josh O'Connor

Goblin Slayer

Yuuichirou Umehara

Scott Carpenter

James Lafferty

Alexander Dumani

Paapa Essiedu

Tom

Arnaud Valois

Clancy

Duncan Trussell

Kim Kang-sun

Joon-young Choi

Zain

Samson Cox-Vinell

Aron

Arvin Kananian

Ben Shields

Joshua Close

Virginies Ehemann

Cédric Vieira

Professor James Morrow

Skylar Astin

Leozinho

Miguel Rômulo

Roman Ilyin

Ivan Yankovskiy

Jerome Sinfeld

Jonathan Groff

Kyoutarou Imura

Daisuke Ono

Dmitri 'Mitja'

Sergey Godin

Will

Nicholas Braun

Kinrou

Tomoaki Maeno

Eric Hayes

Chad Connell

Flash / Barry Allen

Christopher Gorham

Jon Dondon

Tom Sturridge

Danny / Tony

Duke Nicholson

Lionel

Kenneth Fok

Omar

Babacar Sylla

Doug Friedman

Bruce Novakowski

Clarence Dickinson

Luke Kleintank

Jamal

Tyler Davis

Martin Jones

Miles Teller

Xander Duvall

Oliver Dench

Teiji Matsuda

Naoki Kobayashi

Joe Marrow

Victor Zinck Jr.

Mann #1

Kento Hama

Souma Ogata

Tatsuhisa Suzuki

Platt Barbour

Luke Kleintank

Nick Holland

Luke Kleintank

Cooper

Jake Lacy

Kronen von Wolff

Yuuya Uchida

Devin Knight

Wes Brown

Darren

Anders Holm

Shawn

Moe Jeudy-Lamour

Brett Wyden

Jake Lacy

Randy

Trent Garrett

Amon Snow

Takuya Inagaki

Dmitri

Y'lan Noel

Aaron

Tyler Chase

Charlie Reed

Patrick Schwarzenegger

Nightwing

Adam Croasdell

Lynch

Alfie Allen

Joe Cocker

Frederick Schmidt

Flash / Barry Allen

Christopher Gorham

Elvis

Horacio García Rojas

Jake

Tom Sturridge

Peter Parker

Chris Pine

Eddie Diaz

Ryan Guzman

Goblin Slayer

Yuuichirou Umehara

Josh

Ryan Gaul

Commander Pyre

Liam McIntyre

Cal Harper

Sachin Bhatt

Vince Cook

Anders Holm

Omar Shana

Omar Ayuso

Benimaru

Makoto Furukawa

Ken Wakashimazu

Yuuichirou Umehara

Tom

Marc Coles Smith

Aaron Jackson

Trevor Jackson

Jonesy

Cosmo Jarvis

Jack Miller

Morgan Krantz

Yun Qing

Tony Yo-ning Yang

Realand

Kaito Ishikawa

Jimmy

Jerrod Carmichael

Robbie MacDonald

Kendrick Sampson

Bob Paine

Rudi Dharmalingam

Reggie Green

Marque Richardson

Sean O'Callaghan

Ryan Gaul

Brendan McDonough

Miles Teller

'Low Key' Lyesmith

Jonathan Tucker

Charles Xavier

Harry Lloyd

Skyler

Jesse Williams

Jonathan

Yonaton Shiray

Geschäftsleiter Musikladen

István Dankó

Mitch

Mandela Van Peebles

Abdullah

Sâm Mirhosseini

Dan Miller

Giles Panton

Julian

Ben Winchell

Charles Phips

Tomoaki Maeno

Gary

A.D. Miles

Rick Ayer

Masaya Matsukaze

Ethan

Lamar Johnson

Angel Eyes

Nolan Gerard Funk

Moussa

Narcisse Mame

Holden Ford

Jonathan Groff

Adam Schumann

Miles Teller

Ted

Milo Twomey

Tanner Langdeau

Tanner Langdeau

Tiefang

Harry Shum Jr.

Craig Shilo

Sam Jones III

Jimmy Butler

Jimmy Butler

Tom

Anders Holm

David Packouz

Miles Teller

Greg

Finn Wittrock

Imad

Tewfik Jallab

Tripoli GRS Operator

Joost Janssen

Jimmy Butler

Jimmy Butler

Jin-Taek

Kim Han-Jong

Matt

Jesse C. Boyd

Turk

Robert Aramayo

Nathan

Callum Turner

Hunter

Chris Redd

Julian

Adam DeVine

Dan

Mark Coles Smith

Boone

Jesse C. Boyd

Levi

Yasuyuki Kase

Yusuke Shimura

Kengo Kôra

Agustín Lanuez

Frankie J. Alvarez

Nick Davis

Dean Geyer

Zico

Lucan Melkonian

Louis

Yani Gellman

Steven

Lucas Adams

Brady Mannion

Garrett Clayton

Liam West

Shane Coffey

Vinny

Miles Teller

Gaspard Sandoz

Baptiste Coustenoble

Pau

Marc Balaguer

Gakaku

Kousuke Oonishi

Mikkel

Emil Johnsen

Will Davis

Miles Teller

Kevin O'Brien

Brendan Penny

Shane

Parker Young

Apollo

Kardinal Offishall

Peter

Miles Teller

Danny

Danny Pudi

Punk #1

John Edward Lee

Jim (Xiaoming)

Xiaoming Huang

Jack

Paul Campbell VIII

Esteban

Justin Alastair

Jesse

Skylar Astin

Jamie Shipley

Finn Wittrock

Reed Richards / Mr. Fantastisch

Miles Teller

Matthew Townshend

James Frecheville

junger Mitarbeiter

Justin Miles

Lucas Miller

Patrick Sabongui

Tanner

Garrett Clayton

Gilbert

Olivier Chantreau

Nick Thompkin

Grant Harvey

Dag

Nicholas Braun

Matt Ostin

Anders Holm

Mark Wright

Mark Wright

Mateo

Nico Santos

Derek Blasberg

Derek Blasberg

Sebastian Chen

David Lim

Danny

Rotimi

Jim Surdoval

Michael Stahl-David

Det. Stroughs

Salar Ardebili

Roman

Luke Mitchell

maskierter Mann

Derek Roché

Ferg

Chris Fulton

Stephen 'Flick' Powers

Garrett Clayton

Jonathan Collier

Ryan Merriman

Giorgio

Domenico Diele

Lieutenant Mitaka

Chris Geden

Gary

A.D. Miles

James

Dean Geyer

Connor

William Prescott

Koda / Blauer Ranger

Yoshi Sudarso

Jeff

Patrick Schwarzenegger

Rich Alexander

Kyle Soller

Léo

Victor Pontecorvo

Dash Sutherland

Andrew W. Walker

Peter

Miles Teller

Ryan

Theo Barklem-Biggs

Deputy Jones

Mike Mayhall

Peter

Miles Teller

Jeff

Parker Young

Brad

Anders Holm

Miller

Luke Treadaway

Novice Punk Nick

Ryan Prescott

Andrew Neimann

Miles Teller

Ed

Josh O'Connor

Mickey Cole

Benjamin Hollingsworth

Keith Butterfield

Rhys Wakefield

Josh

Will Cuddy

Scribble

Thomas Lennon

Paul Jillian

Allan McLeod

Aiden Walker

Elliot Knight

Aaron

Trevor Jackson

Andrew

Russell Saylor

Danny

Anthony Ilott

Daniel

Miles Teller

Tobio Kageyama

Kaito Ishikawa

Brad

Ben Winchell

Kevin

Patrick Lawrie

Góral

Maurycy Popiel

Jackson Kale

Spencer Boldman

Alec

Miles Teller

Olivier / Brahim

Mohamed Seddiki

Aaron Rawley

Joshua Close

Kyouya Sata

Takahiro Sakurai

Heath

Joey McIntyre

Ben Stanley

Adam DiMarco

Jonathan

Justin Holmes

Agustín Lanuez

Frankie J. Alvarez

Pvt. Randy Hill

Parker Young

Philip

Axel Bøyum

Jeremiah

Nat Wolff

Jay Grayson

Zane Holtz

Tanner

Garrett Clayton

Adam

Dave Patten

Wilson

Seth Meriwether

Brennans Angestellter

James Francis Ginty

Kyle

Boyd Holbrook

Drew

Gregg Sulkin

Mason Greyback

Gregg Sulkin

Ruan Sternwood

Elyes Gabel

Etudiant

Augustin Bonhomme

Ainsley Tree

Tom Stuart

Alec Lightwood

Kevin Zegers

Alexander

Lucas Adams

Jude

Brent Antonello

Jake Stewart

Bernard Curry

Dash Gardiner

Eric Winter

Aaron

Jesse C. Boyd

Cody Simpson

Cody Simpson

Lucas Young

Donny Boaz

Miller

Miles Teller

Ralph

Marshall Allman

Jannik Riise

Morten Vang Simonsen

James Whippy

Ben Rameaka

Ryan

Brad Mills

Birdman / Baby Birdman

Jonah Ray

David 'Cole' Coleman

Nikolai Nikolaeff

Chris

Brett Ryan

Jesse

Skylar Astin

Sgt. Feldmann

Kristopher van Varenberg

Jeb Oliver

Josh Helman

Adriano

Domenico Diele

Justin

Roy Huang

Sergei

Robin Kasyanov

Will

Elliott Jordan

Cameron Harrison

Cameron Deane Stewart

Chester

Robert Kazinsky

Riske's Assistent

Stephen Weigand

Detective Mason

Dan Beirne

Max

Patrick J. Rafferty

Pequenin

Antonio Barroso

Jimmy Borelli

Steven R. McQueen

Will

Ryan Gaul

Alex Davis

Parker Young

Detective Marcus Bell

Jon Michael Hill

Casey

Anders Holm

Legend

Niek Traa

Takanori Ando

Kôji Seto

Wilson

Seth Meriwether

John

Michael Angarano

Aladdin

Darren Shahlavi

Jeff

Michael Legge

Wulfric

Tom Cullen

Adam

Patrick Heusinger

Hauptverdächtiger

Callan McAuliffe

Arik

David Kaufman

Baatar Jr.

Todd Haberkorn

Deputy Jeff Richards

Marcus Hester

Adam Davenport

Spencer Boldman

Shiva

Siddharth Suryanarayan

Scott

Brian Hallisay

Mike Newton

Michael Welch

Hugo

Killian Coyle

Tucker Gates

Aaron Dean Eisenberg

Asher

Jordan Nichols

Lloyd Taylor

Nicholas Braun

Percy Dolarhyde

Paul Dano

Dex

Andrew Hansen

Nigel

Nicholas Braun

Jordan Lyle

Ryan Rottman

Anders Holmvik

Anders Holm

Austin Welch

Shane Harper

Leon Micheaux

Tom Payne

Han Gi-soo

Min-ki Lee

Janek

Mykolas Vildziunas

Trey

Erik Knudsen

Willard

Miles Teller

William

Gaspard Ulliel

Kyle

Victor Zinck Jr.

Hans Hauge

Jakob Oftebro

Carlos

Shane Pollard

Aiden Walker

Daniel Fox

Wilke

Austin Butler

Stephon

Denzel Whitaker

Jason

Kevin Jonas

Mike Newton

Michael Welch

Clippo

Mark Butler

Koichi Yamano

Aoi Nakamura

Sokka

Jackson Rathbone

Aqualad / Kaldur'ahm

Khary Payton

Aqualad / Kaldur'ahm

Khary Payton

Agent Martin

Ishan Morris

Mike Chance

Skyler Stone

Chase Sanchez

Cleavon McClendon

Mads (mit 17 Jahren)

Mads Reuther

Ortez

Cortez Nelson

Bernard

Cleavon McClendon

Deepak Kalpoe

Clayton Evertson

Mick Jones

Benjamin Hollingsworth

Ed

Nicholas Braun

Cormac McLaggen

Freddie Stroma

Mike Newton

Michael Welch

The Wiz

Jared Grimes

Justin

Spencer Treat Clark

Bennett Brewer

Aaron Taylor-Johnson

Alex

Arcadiy Golubovich

Kevin Barrett

Paul McGill

Reggie

Danny Cooksey

Reggie

Danny Cooksey

Dougie

Scott Lyster

Pfc. Chard Davies

Brendan Miller

Leo

Joey Morris

Cameron James

Nicholas Braun

Mike Newton

Michael Welch

Jason

Kevin Jonas

Blake

Ryan Kennedy

Kevin Jonas

Kevin Jonas

Adam Benson

Ryan Merriman

Ben

Elyes Gabel

Charlie Hogan

Michael Cassidy

Chuck Coley

Mazin Elsadig

Afghan Local

Lohrasp Kansara

Camiel

Niels Croiset

Hubbard

Voltaire Sterling

Mason Greyback

Gregg Sulkin

Little Dove

Omari Hughes

Lucien

Ramon Pujol

Alex Rider

Alex Pettyfer

Franklin Sousley

Joseph Cross

Goateed Guy

Jonno Roberts

Dale Turner

Erik Knudsen

Kevin

Jilon VanOver

Raphael

Jeremy Batiste

Alecto

Lorenzo De Angelis

Patrick

Lee Ingleby

Alex

Sunkrish Bala

Jem Harper

John-Paul Macleod

Tiago

Daniel Zettel

Picardo

Andrew Stone

Jake

Kevin Duhaney

Claude

Stephen Jasso

Gary

A.D. Miles

Bruce

Samm Levine

Russell Halloway

Glenndon Chatman

Mike Dallas

Demetrius Joyette

Scrooge (Kind)

Josh Maguire

Cody Griffin

Chez Starbuck

Billy

Alex Campbell

Charlie Boyle aka Chaz Anthony

Trevor Morgan

Nick

Zane Carney

Billy Maplewood

Rufus Read