Gundi Eberhard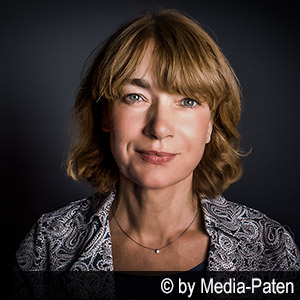 Synchronstimme von:
Jessica Biel, Kristin Davis, Michelle Monaghan, Betsy Brandt
Synchronisiert auch:
Heather Graham, Kelly Rowan, Lauren Graham, Julie Bowen, Toni Collette, Olivia Munn, Lubna Azabal
Über

Gundi Eberhard

:
Gundi Eberhard wurde 1966 geboren und absolvierte ihre Schauspielausbildung an der Film- und Fernsehakademie Berlin. In ihrer Tätigkeit als freie Schauspielerin war sie unter anderem in der Serie "Unser Charly" zu sehen. In den 90er Jahren fand sie zum Synchron. Neben ihren Feststimmen Jessica Biel, Kristin Davis (Charlotte aus Sex and the City) und Michelle Monaghan, sprach sie auch Betsy Brandt als Mary Schrader in "Breaking Bad".
Filme mit der Stimme von

Gundi Eberhard

:
Film
Rolle
Schauspieler

Mercedes

Mónica Antonópulos

Miwako Sato

Atsuko Yuya

Kathryn Royce

Betsy Brandt

Merle

Lærke Winther Andersen

Madira Brower

Indira Varma

Julia Meade-Hunt

Michelle Monaghan

Marie Schrader

Betsy Brandt

Jackie Sharp

Molly Parker

Angie

Amy Pietz

Mary Morrison

Kristin Davis

Leilanai Haw

Kelly Hu

Miwako Sato

Atsuko Yuya

Finley Stephens

Rebecca Spence

Lee Yeong-sun (mittleren Alters)

Min-young An

Grace

Michelle Monaghan

Krankenschwester Julia

Laura Calero

Dr. Hong Ga-young

Sun-young Kim

Cheryl

Lucy Lawless

Jill Tucker

Liz White

Shouko Ieiri

Aya Endou

Sally

Elena Saurel

Annie

Kristin Lehman

Renee Thomas

Kimberly Guerrero

Rektorin Gupta

Purva Bedi

Tante Victoria

Alison Araya

Lenore

Catherine Walker

Sheila

Jo Herbert

Mrs. Hennessy

Maya Rudolph

Amy

Avrielle Corti

Mrs. Winthorp

Claire Forlani

Sarah

Stefanie Estes

Antoinette Pierre

Magaly Colimon

Michelle Blake

Liv Tyler

Coach

Julie Summers

Eva

Molly Parker

Molly Ringwald

Molly Ringwald

Barbaray Rose

Gara Takashima

Safiya Masry

Indira Varma

Naia

Tawny Cypress

Lee Hae-gyoung

Yeo-jin Kim

Ursula

Suzanne Magowan

Denise

Tichina Arnold

Betty

Lanette Ware

Mrs. Dragon

Stephanie Sheh

Véra

Olivia Côte

Senatorin Massey

Carrie Tillis

Naomi

Maya Rudolph

Aquila Marin

Fumiko Inoue

Alma Ellsworth

Molly Parker

Anna Collier

Cosima Shaw

Kanae Izumi

Yuka Terasaki

Vivian

Erinn Hayes

Daisy

Nienke van Hofslot

Königin Iduna (Sprache)

Evan Rachel Wood

Crystal

Katie Kreisler

Gloria

Candela Fernández

Shami Chakrabarti

Indira Varma

Caroline

Betsy Brandt

Gina

Perrey Reeves

Cassidy

Karen Holness

Sedhah Esti Wulan

Tara Basro

Schönheit

Ona Grauer

Kate Conrad

Kristin Davis

Ylfa

Melora Walters

Jasmine

Siobhan Murphy

Danny Zakarweski

Mary Elizabeth Winstead

Karen Pappas

Bellamy Young

Krone

Nao Fujita

Raquel

Paola Giannini

Nadja Privalov

Mariya Mironova

Dr. Chin

Camille Chen

Sarah Milburn

Anna Madeley

Apex-Frau

Karen Holness

DI Alice Brenton

Nimmi Harasgama

Jules Osborn-Burgess

Lea Thompson

Judy Sutton

Laura de Carteret

Alexanders Mutter

Tara Nicodemo

Anne Moore

Indira Varma

Vanessa Fisk

Lake Bell

Pandora Shaw

Caren Pistorius

Christin

Maria Bock

Berryblue

Kimiko Saitou

Anna Miller

Dolly Wells

Rose Knudsen

Johanne Louise Schmidt

Mrs. Kemper

Sarah-Jane Redmond

Eleanor

Nina Leon

Miwako Sato

Atsuko Yuya

Maureen Hunt

Tika Sumpter

Freya Fenris

Mary Elizabeth McGlynn

Abby Miller

Brooke Lyons

Jane Oliver

Nicola Walker

Mary Wagner

Mary Sohn

Judy Wood

Michelle Monaghan

Sandrine

Ophélia Kolb

Rachel

Lucy Gaskell

Gwen

Gwendoline Christie

Jennifer Bryant

Michelle Monaghan

Stacey Baswick

Kimmy Gatewood

Lisa von Lupu / Lisa Tepes

Emily Swallow

Arlette James

Molly Parker

Marjorie

Alison Wright

Raees' Mutter

Sheeba Chaddha

Antons Mutter

Petra Vukelic

Mrs. Baker

Kate Walsh

Cora Tannetti

Jessica Biel

Sam

Annie Parisse

Amy Haller-Jacobs

Katie Aselton

Tante Elizabeth

Edie Inksetter

Emily

Katie Aselton

Antons Mutter

Petra Vukelic

Rivka

Alexis Zegerman

Francis Midford

Atsuko Tanaka

Jane 'Butch' LePray

Katey Sagal

Ryan

Selina Giles

Ashe Akino

Sanaa Lathan

Laurence Lenoir

Lætitia Reva

Susan Jacobs

Natalie Brown

Rina

Sophie Hoflack

Leila

Zakieh Behbahani

Lisa Mayr

Jessica Biel

Carol Saunders

Michelle Monaghan

Paula Walker

Elizabeth Dozier

Rose Knudsen

Johanne Louise Schmidt

Lenka Fafková

Anna Geislerová

Mrs. Ebrahimi

Aram Ghasemy

Naomi Ben-Hur

Ayelet Zurer

Wendy

Karen Holness

Vanessa Helsing

Kelly Overton

Captain Garcia

Alison Araya

Helen Matherson

Anna Wilson-Jones

Molly Parker

Molly Parker

Miwako Sato

Atsuko Yuya

Angie Everett

Cindy Sampson

Cassandre

Audrey Bonnet

Elisabeth Ferney

Lubna Azabal

Marie

Caterina Murino

Eve Morgan

Kristin Davis

Professorin Tucker

Elia Nichols

Callie Senate

Molly Parker

Elea Bergen Wessel

Ellen Dorrit Petersen

Sarina Kimball

Christy Scott Cashman

Mutter von Willy

Jean Luc Piraux

Samantha Payne

Luciana Pedraza

Lynn Campbell

Sydelle Noel

Alice Eckle

Jessica Biel

Lt. Col. Violet Van Patten

Michelle Monaghan

Jane Geernt

Britt Lower

Reiko Mihie

Chiaki Mori

Cassie Nightingale

Catherine Bell

Arianna Peterson

Ashley Jones

Christy Crawford

KaDee Strickland

Ana Jarvis

Lotte Verbeek

Elena Reyes

Karen Bethzabe

Anne Green

Amy Price-Francis

VV / Jeril

Takako Fuji

Sheila Butler

Marianne Farley

Aya Suzumoto

Yuuko Mizutani

Rose Geller

Brigid Brannagh

Sara Mathews

Ashton Leigh

Angie

Amirah Vann

Rose Geller

Brigid Brannagh

Frau Kommandant

Marian Saastad Ottesen

Cassandra Nightingale

Catherine Bell

Missi Jenkins

Toni Collette

Amanda Collier

Michelle Monaghan

Erin

Isel Rodriguez

Evelyn (jung)

Ashleigh Falls

Sawako

Yukie Nakama

Beverly

Françoise Yip

Clarissa

Tika Sumpter

Helen Truby

Rosemarie DeWitt

Carmen

Catalina Sandino Moreno

Karen

Brandy Redd

Her

Michelle Monaghan

Alisa

Yuliya Snigir

Joan Fischer

Lily Rabe

Dr. Sirenko

Lana Macanovic

Maggie Swann

Michelle Monaghan

Nachrichtensprecherin

Heather Storm

Janine Jeffs

Molly Parker

Miwako Sato

Atsuko Yuya

Kara Varney

Michelle Monaghan

Celeste

Michelle Harrison

Daisy Grant

Patina Miller

Jessica Biel

Jessica Biel

Allison Beck

Brynn O'Malley

Veera Joentie

Pihla Viitala

Crystal Harris

Dana Delany

Hitomi Sata

Aya Hisakawa

Frau ohne Führerschein

Aure Atika

Amanda James

Josephine Davison

Tawny St. John

Casey Wilson

Cassandra Nightingale

Catherine Bell

Miwako Sato

Atsuko Yuya

Clare

Julie Ann Emery

Madeleine

Gina McKee

Sophie

Katia Winter

Jacqueline 'Jackie' Kennedy

Kat Steffens

Amy

Heather Graham

Rosita

Carolina Castro

Lacey

Anna Schafer

Ladeninhaberin

Lara Grice

Agent Devers

Kristen DeVore Rakes

Dina Robertson

Shannon Hand

Natasha

Natasha O'Keeffe

Carla

Kathleen Browers

Elizabeth

Miranda Otto

Sally Lamonsoff

Maria Bello

Dr. Sydney Napur

Sarayu Rao

Claire Matthews

Natalie Zea

Pauline Langlois

Raquel Cassidy

Batia

Shivani Gai

Linda Miles

Jacqueline Brennan

Francette

Rae Foster

Rebecca Daniel

Elsa Mollien

Hannah Sharples

Gail O'Grady

Melora

Missi Pyle

Cassie Chan / Pink Space Ranger

Patricia Ja Lee

Linda

Jessica Biel

Ryuko Matoi

Ami Koshimizu

VV

Takako Fuji

Miwako Sato

Atsuko Yuya

Cassandra Nightingale

Catherine Bell

Billie Clark

Kristin Davis

Melina

Jessica Biel

Julia Denning

Jessica Biel

Stacie

Jessica Biel

Bankangestellte

Betsy Brandt

Sarkoja

Polly Walker

Miwako Sato

Atsuko Yuya

Pauline Hemingway

Molly Parker

Nancy Lincoln

Robin McLeavy

Hana

Aoi Miyazaki

Florence Jane

Michelle Monaghan

Liz

Kristin Davis

Marlene

Michelle Douglas

Lydia Vecchio

Dana Delany

Vera Miles

Jessica Biel

Ellis Kane

Gina McKee

Savannah Guthrie

Savannah Guthrie

Angela

Sandra Huggett

Liv

Arly Jover

Cassandra Nightingale

Catherine Bell

Lynda

Rosalind Halstead

Fiona

Emma Fryer

Christie Clauson (Sprache)

Maryke Hendrikse

Maggie

Jenna Fischer

Maud

Rebecca Lovett

Renee Blair

Rosemarie DeWitt

Sherri Nichol

Molly Parker

Miwako Sato

Atsuko Yuya

Claire Fallon

Vanessa Branch

Christina Warren

Michelle Monaghan

Jenny

Kate Magowan

Arwen

Anna Skellern

Dr. Megan Hunt

Dana Delany

Clarice Boyle

Debrianna Mansini

Jill

Beth Lacke

Jane Callow

Anna Wilson-Jones

Joy / Tiwa

Chanokporn Sayoungkul

Mrs. Maretti

Rosemarie DeWitt

Kamado Ueshita

Hiromi Konno

Irene Honma

Fuyuka Ooura

Cassandra Nightingale

Catherine Bell

Shelter Cove Mom

Jill Morrison

Charlotte York

Kristin Davis

Robin

Andrea Savage

Athena

Melina Kanakaredes

Sarah Highman

Michelle Monaghan

Charissa Sosa

Jessica Biel

Miwako Sato

Atsuko Yuya

Bruja

Stracy Diaz

Coach Mary

Mary Gallagher

Keenie

Angela Pierce

Audrey

Amber Bartlett

Kara Monahan

Jessica Biel

Jenna McCarty

Christy Carlson Romano

Joey

Stefanie von Pfetten

Shimizu Koyama

Satsuki Yukino

Jessica

Heather Doerksen

Sally Lamonsoff

Maria Bello

Lydie

Aure Atika

Bianca Manning

Zuleikha Robinson

Erzählerin

Megumi Hayashibara

Claw Hostess

Olivia Munn

Mrs. Keyes

Miranda Hart

Thermostat-Mädchen

Diane Mizota

Juliette

Anne Marivin

Mrs. Black

Pam Levin

Nagako Aoki

Manami Honjou

Lucy

Kristin Davis

Amanda Young

Shawnee Smith

Jayne

Parker Posey

Mary Class

Jenny McCarthy

Miwako Sato

Atsuko Yuya

Marion Calmat

Audrey Dana

Dianne

Erin McGrane

Nancy

Veronica Taylor IV

Sonia

Kseniya Rappoport

Mrs. Barber

Miranda Otto

Bindiya Pardesi

Lara Dutta

Ling Chen

Steph Song

Dr. Natasha Thompson

Florencia Lozano

Melissa

Rachael Harris

Dr. Gleason

Andrea Savage

Rika Goddard

Sienna Guillory

Deborah Myers

Sheri Moon Zombie

Mary

Toni Collette

Neera

Jessica Biel

Autumn Bliss

Denise Richards

Lori Conway

Yvonne Strahovski

Amy Sterling

Ruth Marshall

Amy Hill

Samantha Mathis

Roberta Rhodes

Catherine Lough Haggquist

Frances Coles

Sally Leonard

Jean Fellowes

Alicia Eyo

Charmaine

Rosemarie DeWitt

Clover Mansion

Andrea Baker

Wendy Leather

Keeley Hawes

Lady

Claire Lautier

Denise

Andrea Savage

Jinny

Lara Grice

Charlotte York Goldenblatt

Kristin Davis

Aide

Heather Doerksen

Corinne Veneau

Stana Katic

Emily Lott

Selma Blair

Rachel Holloman

Michelle Monaghan

Kelly

Liane Balaban

Lynn

Maura Tierney

Amanda Young

Shawnee Smith

Amanda Watson

Ona Grauer

Molly Hartley

Haley Bennett

Miwako Sato

Atsuko Yuya

Maria Puerto

Mía Maestro

Rachel

Glenda Braganza

Denise

Anna Madeley

Ylva Brink

Sanchia McCormack

Anne Juergens

Molly Ringwald

Carrie Rivai

Sydney Tamiia Poitier

Dr. Amanda Luria

Ruth Marshall

Inez

Moran Atias

Suzanne

Danielle Skraastad

Ranger

Mary-Ann Barlow

Boutique Verkäuferin

Lindsay Sloane

Die Sklavin Una

Kate Magowan

Ehefrau #1

Emily Churchill

Freundin des Drogen Lord's

Marisa Petroro

Bethany

Amara Zaragoza

Miwako Sato

Atsuko Yuya

Maria

Nadine Velazquez

Clara

Candela Fernández

Elizabeth Xander

Naoko Kouda

Angie Gennaro

Michelle Monaghan

Eleonore Gaudens

Charley Fouquet

Kathleen John

Ione Skye

Frau in Restaurant

Elizabeth Bracco

Shanti Priya / Sandya 'Sandy'

Deepika Padukone

Claire

Amber Valletta

Alex McDonough

Jessica Biel

Dale Morris

Kristina Copeland

Nadine

Camille Japy

Amanda Young

Shawnee Smith

Amber Johnson

Jessica Stroup

Gilberte

Estelle Lefébure

Hakan Akbal

Yuko Sato

Deborah Myers

Sheri Moon

Elizabeth 'Liz' Cooper

Jessica Biel

Zoe

Kat Coiro

Hildebranda

Catalina Sandino Moreno

Miss Dickinson

Lena Headey

Sheila Broadman

Kirsten Williamson

Amber

Amber Armstrong

Dr. Charlotte King

KaDee Strickland

Jodie Hayward

Aya Hisakawa

Maureen 'Mo' Williams

Tami Roman

Cricket Stewart

Miranda Otto

Katie

Ally Walker

Karen O'Rourke

Neve McIntosh

Jocelyn

Rebecca Mader

Julia Meade

Michelle Monaghan

Sophie

Jessica Biel

Julianna

Heather Burns

Angel Davenport

Paula Patton

Kristy

Kristen Thomson

Natalia

Eva Pallarés

Sandra Bradshaw

Trish Gates

Elizabeth Williams

Jennifer Quackenbush

Belle Leibowitz

Francie Swift

Theresa

Trini Alvarado

Diana Frances Spencer

Diana Frances Spencer

Rebecca Douglas

Kristin Davis

Kelly Finch

Kristin Davis

Sally Rowe

Toni Collette

Audrey Bellinger

Baelyn Neff

Amanda Young

Shawnee Smith

Kathy Graham

Toni Collette

Isabel

Monique Gabriela Curnen

Bambis Mutter

Carolyn Hennesy

Mary Class

Jenny McCarthy

Jessica

Marley Shelton

Millie Warne

Emily Watson

Betsy Straight

Amy Hubbard

Miwako Sato

Atsuko Yuya

Heather Philips

Laila Ali

Vivian

Romola Garai

Sharon Papale

Lola Glaudini

Lyz Glick

April Telek

2nd Lt. Hakan Aqbal

Yuko Sato

Callie Curie

Sonja Bennett

Marly Ehrhardt

Tricia O'Kelley

Betsy Straight

Amy Hubbard

Pamela

Dagmara Dominczyk

Charlotte Lucas

Claudie Blakley

Eloise Hutchinson

Felicia Day

Eva

Hanna Verboom

Stella

Catherine Lloyd Burns

LaShawn Malone

Anna Faris

Agent Feenstra

Ona Grauer

Katherine

Annie Parisse

Amanda Young

Shawnee Smith

Ishika

Lara Dutta

Ellen Kishmore

Jessica Biel

Stevie Wayne

Selma Blair

Miwako Sato

Atsuko Yuya

Shelby Singer

Sabrina Speer

Carolyn 'Bean' Wright

Hope Davis

Morgan

Annie Parisse

Dir. Claire Fletcher

Lauren Graham

Janelle Rogers

Jennifer Holmes

Beate

Beata Ben Ammar

Betty

Andrea Parker

Gayle Bishop

Melissa Sagemiller

Aurelie Vals

Fannie Brett

Schwedische Reporterin

Sandra Lindquist

Brittany Wilson

Maitland Ward

Sanna

Saija Lentonen

Carla

Toni Collette

Marie

Camille Natta

Tante Lily

Paget Brewster

Brandy

Marsha Thomason

Mrs. Feldman

Molly Sims

Kimberly

Selma Blair

Amanda Young

Shawnee Smith

Rani Singh

Priyanka Chopra

Wynn French

Robin Tunney

Mrs. Farr

Ingrid Veninger

WPC Best

Helen Coker

Georgina

Tina Barnes

Alma Garret

Molly Parker

Wendy

Lynn Collins

Sally

Arija Bareikis

Arakawa

Eriko Ishihara

Kathy

Sheila Kelley

Captain MacLai

Lori Stewart

Cati

Claudia Fiorentini

Miwako Sato

Atsuko Yuya

Celine

Amber Valletta

Natasha

Mia Kirshner

Alice Lidell Hargreaves

Emily Lloyd

Kobato

Satsuki Yukino

Kelly

Megan Nicol

Soraya

Anna Valle

Debbie

Maggie Gyllenhaal

Lisa Sternstrom

Julie Remala

Diana Evans

Denise Richards

Judy Webb

Parker Posey

Dina

Maria Bonnevie

Dr. Lee Sum-Yee

Kelly Chen

Anne-Sophie

Judith Godrèche

Fiona Carter

Olga Sosnovska

Cassidy

Jennifer Sky

Banning Miller

Kim Onasch

Camille Leon

Ashley Tisdale

Sanna

Nathalie Monduit

Sylvie

Nathalie Monduit

Meryl Brooks

Heather Burns

Mabel Nesbitt

Claudie Blakley

Angelica

Lauren Graham

Louise

Ginger Williams

Chin

Kelly Lin

Giulia

Giovanna Mezzogiorno

Jessy James

Lauren Graham

Beth Farmer

Kristin Davis

Anna Espinosa

Gina Torres

Hawkgirl / Shayera Hol

Maria Canals-Barrera

Clover

Andrea Baker

Kellnerin

Melissa Lahlita Crider

Paula

Amber Valletta

Morgan

Katharine Towne

Elizabeth

Guinevere Turner

Lena

Nicole Prescott

Medea

Jolene Blalock

Melissa

Audra Lea Keener

Erin

Bess Meyer

Miwako Sato

Atsuko Yuya

Ted Dragon

Moss Roberts

Mariah Breed

Tamsin Kelsey

Leslie Miller

Amy Adams

Elin

Maria Bonnevie

Marci Elias

Kelly Rowan

Harmony Kendall

Mercedes McNab

Mädchen #1

Erinn Bartlett

Serena

Julie Depardieu

Jessica

Kristin Booth

Barbara

Melina Kanakaredes

Charlotte York

Kristin Davis

Cassie Chan

Patricia Ja Lee

Olga Csizmadia

Barrow Davis

Risa

Jenna Leigh Green

Gina DiStefano

Elizabeth Guber

Adrienne Barker

Rebecca Romijn

Honey Kisaragi / Cutey Honey

Ai Nagano

Halle Berry

Halle Berry

Keisha

Terri J. Vaughn

Jessica

Ashley Greenfield

Aileen

Leslie Windram

Miwako Sato (1. Stimme)

Atsuko Yuya

Eries Aria Aston

Yuri Amano

Ales

Chieko Honda

Miss Jones

Donna Lewis

Bettina

Jeanette Svenson

Mari

Midori Nakazwa

Terry

Hannah Sullivan

Andrea Russell

Lisa Canning

Asuna Kujou

Hiromi Tsuru

Cindy

Toshiko Fujita

Mrs. Chen

Wong Mei Mei

Kitty Sullivan

Susan Hannaford