Tom Vogt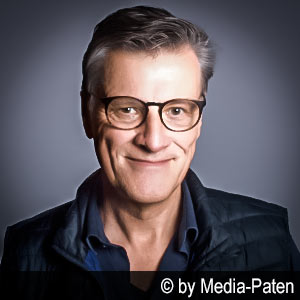 Synchronstimme von:
Laurence Fishburne, Clive Owen, Colin Firth, Aaron Eckhart, Rupert Everett, Chris Noth
Synchronisiert auch:
Gary Cole, Jonathan Frakes, Hugh Laurie, Mykelti Williamson, Jonathan Pryce, Elias Koteas, Hugh Jackman, Jason Statham, Jeffrey Donovan, Thomas Gibson, Kyle MacLachlan, Vincent Lindon, Ralph Fiennes, Viggo Mortensen, Mark Strong, Idris Elba, Kenneth Branagh, Russell Crowe, Liam Cunningham , Josh Brolin, Steve Martin, Jack Davenport, Bill Paxton, Robert Patrick
Über

Tom Vogt

:
Tom Vogt hat sich für die blaue Pille entschieden: er spricht Laurence Fishburne als Morpheus in der Matrix-Trilogie und ist seither seine Feststimme. Tom Vogt leiht seine Stimme auch Clive Owen, Colin Firth, Aaron Eckhart, Mark Strong, Rupert Everett und Chris Noth (Mr. Big aus Sex and the City). Als Station Voice ist er für den Sender Deutsche Welle zu hören und als Off-Sprecher für Dokumentationen in der ZDF-Reihe "Deutschland, deine Künstler". Tom Vogt ist auch Doku- und Werbesprecher z.b. für Nivea Men, Warsteiner oder Volvo.
Filme mit der Stimme von

Tom Vogt

:
Film
Rolle
Schauspieler

Jack Boucher

Aaron Eckhart

Cortland Mayfair

Harry Hamlin

Holland

Mark Strong

Connor Miller

Mark Strong

der Fernsehmoderator

Bryan Cranston

Tom Hagen

Robert Duvall

Tom Hagen

Robert Duvall

Morpheus

Laurence Fishburne

Harvey Dent / Two-Face

Aaron Eckhart

Bob Cowan

Bill Irwin

Vick Wallinger

Laurence Fishburne

Michael Peterson

Colin Firth

Don Wilson

Tracy Letts

Senator Bail Organa

Jimmy Smits

John der Butler

Mark Strong

Scott Landon

Clive Owen

Edward Claydon

Nathaniel Parker

Cochefert

Alexandre Trocki

Mr. Niven

Colin Firth

Dr. Curt Connors / Die Echse

Rhys Ifans

Will Hodges

Dylan McDermott

Crespin

Marton Csokas

Col. Menzies

Richard Dillane

Will Hodges

Dylan McDermott

Barrett Fasoose

Laurence Fishburne

Ewen Montagu

Colin Firth

Sabino

Miguel Ángel Solá

Ken Griffey Jr.

Ken Griffey Jr.

Carroll Quinn

Rupert Everett

Polizist

Pasha Ebrahimi

Sam

Colin Firth

Lord Archibald Craven

Colin Firth

Carson

AJ Bowen

Dr. Daniel Milton

Mark Strong

Grant

John Corbett

Edgar Bosley

Djimon Hounsou

Bernard Gui

Rupert Everett

Bowery King

Laurence Fishburne

Jimmy Doolittle

Aaron Eckhart

David Seton

Kyle MacLachlan

Montgomery

Clive Owen

Clay Verris

Clive Owen

Dovidl Rapoport

Clive Owen

General Erninmore

Colin Firth

Dr. Houston Brooks

Joe Morton

Dickie Franks

Angus Wright

Paul Jellinek

Laurence Fishburne

Frank Penny

Aaron Eckhart

The Man

Laurence Fishburne

John Profumo

Ben Miles

Donald Crowhurst

Colin Firth

Duke

Jeff Goldblum

Lothar Hermann

Peter Strauss

Dr. Bill Foster

Laurence Fishburne

Oscar Wilde

Rupert Everett

Yitzhak Rabin

Lior Ashkenazi

William 'Weatherall' Wilkins / Wolf

Colin Firth

Claudius

Clive Owen

Sal Frieland

Clive Owen

Comm. David Russell

Colin Firth

The Bowery King

Laurence Fishburne

Two-Face

Billy Dee Williams

Cmdr. Arun Filitt

Clive Owen

Robert McNamara

Bruce Greenwood

Harry

Colin Firth

Steve Crowley

Alistair Petrie

Max Vernon

Mark Strong

Eric

Scott Bakula

Bail Organa

Jimmy Smits

Marc Darcy

Colin Firth

US-Präsident Benjamin Asher

Aaron Eckhart

Perry White

Laurence Fishburne

Mark Jackowski

Jason Isaacs

Conor Cruise O'Brien

Mark Strong

Cochise

Albert Dupontel

Jeff Skiles

Aaron Eckhart

Ornithologe

Rupert Everett

Walt

Clive Owen

Gus Mancuso

Laurence Fishburne

Kevin Rooney

Aaron Eckhart

Rodolfo Schmidt

Mark Strong

Walt

Clive Owen

Rags

Steve Martin

Sam Parker

Dylan McDermott

König George VI.

Rupert Everett

Anthony Bourdain

Anthony Bourdain

Hawk

John Cleland

Michael Buffer

Michael Buffer

Raiden

Clive Owen

Benjamin Fuller

Richard Bremmer

Mr. Turner

Riccardo Scamarcio

Teddy

Marton Csokas

Stanley Crawford

Colin Firth

Harry Hart

Colin Firth

Ralph Bass

Josh Hopkins

Sean Wallace

Dylan McDermott

Omar

Laurence Fishburne

Teddy

Marton Csokas

Stewart Menzies

Mark Strong

Adam Frankenstein

Aaron Eckhart

Marquis de Feron

Rupert Everett

Dr. John W. Thackery

Clive Owen

Bail Organa

Phil LaMarr

Jack Marcus

Clive Owen

Chief Inspector Armand Gamache

Nathaniel Parker

US-Präsident Benjamin Asher

Aaron Eckhart

Perry White

Laurence Fishburne

Anthony Romano

Chris Noth

Chris

Clive Owen

Michael Buffer

Michael Buffer

Jacob Sternwood

Mark Strong

Ron Lax

Colin Firth

John

Mark Strong

Antonius

Andrew Brooke

Harper Stewart

Taye Diggs

Briggs

Laurence Fishburne

Mac

Clive Owen

Dr. Curt Connors / The Lizard

Rhys Ifans

Harry Deane

Colin Firth

Matai Shang

Mark Strong

Ernest Hemingway

Clive Owen

Alexander Coffroth

Boris McGiver

Joazar

Thomas Trabacchi

Anthony Pistone

Joseph Siravo

Bernhard Thorell

Per Graffman

Tim Wattley

Dylan McDermott

Ben Logan

Aaron Eckhart

Staff Sgt. Michael Nantz

Aaron Eckhart

Dr. Ellis Cheever

Laurence Fishburne

Sinestro

Mark Strong

Bill Haydon

Colin Firth

Amar, Sultan von Salmaah

Mark Strong

Jon Stewart

Jon Stewart

Lord Edmund St. John-Smythe

Rupert Everett

John Farrow

Clive Owen

Spike

Clive Owen

Clive Cornell

Mark Strong

Freddy Ferragut

Alfredo Castro

Song Contest Juror

Rupert Everett

Sarahs Vater

Cooper Thornton

Bruce, der Bär

Faizon Love

König George VI.

Colin Firth

Will

Clive Owen

Michael Booth

Jeff Fahey

John James 'Mr. Big' Preston

Chris Noth

Sir Godfrey

Mark Strong

Charles Kingsleigh

Marton Csokas

Direktor McCready

Henry Czerny

Gus Leroy

Colin Firth

König George VI.

Colin Firth

Khabarov

Mark Strong

Howie

Aaron Eckhart

Lord Blackwood

Mark Strong

Fred Scrooge

Colin Firth

George

Colin Firth

Abraham

Hank Azaria

Lord Henry Wotton

Colin Firth

Baines

Laurence Fishburne

Camilla / Captain Archibold / Fortnam Fritton

Rupert Everett

Joe Warr

Clive Owen

Peter Florrick

Chris Noth

Sir John Conroy

Mark Strong

John James 'Mr. Big' Preston

Chris Noth

Mercer Martin

John Terry

Richard Bratton

Colin Firth

Gerry Moore

Aidan Quinn

Michael Berg

Ralph Fiennes

Cole Williams

Laurence Fishburne

Keenan Jones / Pat Garrett

Bruce Greenwood

Daniel Avila

Jimmy Smits

Sir Walter Raleigh

Clive Owen

Captain Pinbacker

Mark Strong

Captain Pinbacker

Mark Strong

Aurelius

Colin Firth

Mr. Jones

Peter Strauss

Al Shaw

Nigel Whitmey

Sheriff Foster

Scott Glenn

Prinze Charming (Shrek Szene im Fernsehen)

Rupert Everett

Smith

Clive Owen

Travis Vuoso

Aaron Eckhart

Roy

Dylan McDermott

Sam / Erzähler

Mark Keller

Michael Buffer

Michael Buffer

Theodore Brassel

Laurence Fishburne

Dalton Russell

Clive Owen

Jimmy

William McInnes

Jean-Francois Lefort

Albert Dupontel

David

Jason Isaacs

David

Jason Isaacs

Marcus

Tony Curran

Alastair Campbell

Mark Bazeley

Edward Robinson

Laurence Fishburne

Peter Johansson

Paul Johansson

Jonathan Frakes

Jonathan Frakes

Theodore Faron

Clive Owen

Lee Blanchard

Aaron Eckhart

Dominic

Rupert Graves

Eddie McCleister

Tim Guinee

Tom Fuller

Mark Moses

Danny

Iain Glen

Jack Dunphy

Bruce Greenwood

Marion Bishop

Laurence Fishburne

Dwight McCarthy

Clive Owen

William Bule

Rupert Everett

Kyle Williams

Dougray Scott

Franklin Delano Roosevelt

Kenneth Branagh

Senator Bail Organa

Jimmy Smits

Mr. Parker

Jason Isaacs

Sgt. Frances Lazerov

Dylan McDermott

Charles Schine

Clive Owen

Ted Hastings

Justin Ashforth

Jake

Jason Statham

Mann

Aaron Eckhart

Nick Naylor

Aaron Eckhart

David Pratt

John Benjamin Hickey

Mr. Brown

Colin Firth

Det. Lee Scanlon

David Cubitt

Erik Westin

Niklas Falk

Algernon

Reed Diamond

Albert Londres

Antoine de Caunes

Charles de Poulignac

Rupert Everett

Andy Ames

Kevin Kilner

Leo Cauffield

Rupert Everett

Det. Williams

Tom Wright

Jeff Tracy

Bill Paxton

False Denzel

Richard T. Jones

Werbefilmsprecher

Andy Chanley

Spencer Tracy

Kevin O'Rourke

Enrique Colon

Ty Burrell

König Charles II.

Rupert Everett

Sherlock Holmes

Rupert Everett

Herr Li

Tony Leung Ka Fai

Arthur

Clive Owen

Pater Manolo

Daniel Giménez-Cacho

Prinz Charming

Rupert Everett

Archie Dexter

Leigh Lawson

Jacob Woods

Dylan McDermott

Lt. Bennie Macko

Bruce Greenwood

Morpheus

Laurence Fishburne

Morpheus

Laurence Fishburne

James Rethrick

Aaron Eckhart

Jamie Bennett

Colin Firth

Mr. Pugh

Jo Stone-Fewings

Brake Baldwin

Aaron Eckhart

Sgt. Whitey Powers

Laurence Fishburne

Smoke

Laurence Fishburne

Gesandter des Königs

Matthew Macfadyen

Colin Ware

Colin Firth

Dr. Josh Keyes

Aaron Eckhart

Bill Paxton

Bill Paxton

Roman

Jsu Garcia

David Talbot

Paul McGann

Tuck Lampley

Paul Johansson

Cmdr. William Riker

Jonathan Frakes

Gustav Graves

Toby Stephens

Senator Bail Organa

Jimmy Smits

Daniel Stone

Douglas Henshall

Arthur

Mark Strong

Gnaeus Pompeius Magnus

Chris Noth

Major Frank Santos

Michael Jace

Harlan Sangster

Elias Koteas

Lisp

Robert Patrick

Staatssekretär Dr. Wilhelm Stuckart

Colin Firth

Brother Joe

Leon

Leander McNelly

Dylan McDermott

Kurator

Nicholas Hammond

Erzähler

Martin Glyn Murray

Thomas Lynley

Nathaniel Parker

Det. Mike Logan

Chris Noth

Trooper Finnegan

Rob Moran

Jimmy Groves

Ruben Santiago-Hudson

George

Aaron Eckhart

Stassard

Christopher Thompson

Fidel Vaillar

José Zúñiga

Josua

Jonathan Firth

John Townsend

Elias Koteas

Mr. Callen

Grant Thompson II

Dino

David Caruso

Mo

Titus Welliver

Nationaler Sicherheitsberater Bill Sokal

Bruce Greenwood

Bankberater

John Sanford Moore

TV-Reporter

Matthew Pidgeon

Reuben Kadish

Matthew Sussman

Michael Buffer

Michael Buffer

Rich Bower

Oliver 'Power' Grant

Lord Arthur Goring

Rupert Everett

Dr. Hazmat

Nestor Serrano

Detective Jack Maitland

Jerome Ehlers

Oberon

Rupert Everett

Nick Crozier

Aaron Eckhart

Herger

Dennis Storhøi

Dick Jennings

Danny Wells

Colonel Horn

Mykelti Williamson

Peter Smith-Kingsley

Jack Davenport

Charles Newman

Dylan McDermott

Kevin

Jon Tenney

Bryce McCarthy

Josh Brolin

Campuso

Chris Noth

König Mongkut

Chow Yun-Fat

Sheriff Emmett Kimsey

Lou Diamond Phillips

Billy Waites

Josh Brolin

Laird Atkins

Craig Sheffer

Van

Burr Steers

Nachrichtensprecher

Bret Lewis

Alvaro de la Quadra

James Frain

Cmdr. William Riker

Jonathan Frakes

'Erzähler'

Gerard McSorley

Jeremy Butler

Adam Baldwin

Dr. Robert Joley

Tim Daly

Andre Pitman

Michael Wiseman

Damon

Scotch Ellis Loring

John James 'Mr. Big' Preston

Chris Noth

Steven

Larry Holden

Brad

Jason Flemyng

Off. Joey Randone

Peter Berg

Jess Clark

Colin Firth

George Downes

Rupert Everett

James Russell

Charlie Sheen

Keith Marks

James Denton

Adrian Conrad

Bill Marchant

Polizist

Ken Kidd

Anrufer Nr. 1 (Bob Regular)

Peter Berg

Marine-Sergeant

Ricco Ross

Jimmy Wells

Jon Tenney

Lord Warburton

Richard E. Grant

Cmdr. William Riker

Jonathan Frakes

Dr. David Thompson

Chris Noth

Kassierer im Bordell

Michael Massee

Thomas Daggett

Elias Koteas

Detective Sanchez

Nestor Serrano

Dr. Gabriel Rodman

Campbell Scott

'Really' Betrunkener

Vincent Lindon

Lt. Peter 'Weaps' Ince

Viggo Mortensen

Wildcat

Eric Schweig

Aidan Hunter

Jon Tenney

Col. Fitzwilliam

Anthony Calf

Tom Paris (1. Stimme)

Robert Duncan McNeill

Thomas Ridgely

James Remar

FBI Agent Dan Murray

Tim Grimm

Shep

Leon

Jeff

John Clayton Schafer

Bogs Diamond

Mark Rolston

Mace

David Keith

Dick Ellis

Richard Jewkes

Dick Ellis

Richard Jewkes

New York Cop #2

Ben Lemon

Frankie Taglialucci

Adrian Pasdar

Mike Savage

Brendan Kelly

Mike Savage

Brendan Kelly

Bisley

Nicholas Love

Dwight McGhee

Nigel Miguel

Frank Huddy

Steven Brill

Martins

Christopher Lawford

Eric Hansen

Michael Dolan

Doktor

Mark Phelan

Verkehrspolizist

Rick Cicetti

John Ridd

Clive Owen