Arne Stephan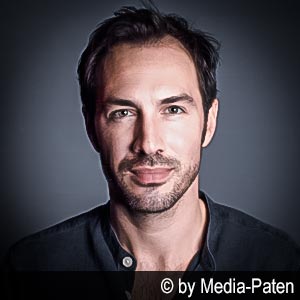 Synchronstimme von:
Gwilym Lee, Mena Massoud, Lakeith Stanfield
Synchronisiert auch:
Zachary Quinto, Adam Shapiro, Jay Hernandez
Über

Arne Stephan

:
Arne Stephan ist am 10. November 1982 in Buchholz in der Nordheide geboren und arbeitet als Schauspieler, Sänger und Synchronsprecher. 1999 bis 2002 absolvierte er eine Ausbildung zum Musicaldarsteller an der Stage School of Music, Dance and Drama in Hamburg. Er spielte in verschiedenen Stücken wie Cats, Das Tagebuch der Anne Frank und Jesus Christus Superstar sowie Speed. Arne Stephan war in den Serien "Gute Zeiten Schlechte Zeiten" (2006-2008 als Marc und Victor Hansen) und "Eine wie keine" (Mark Braun) zu sehen. Darüber hinaus ist die Liste seiner gespielten Charaktere in Film und Fernsehen lang. Auch als Synchronsprecher zeigt er sein Können und steht regelmäßig vor dem Mikro.
Filme mit der Stimme von

Arne Stephan

:
Film
Rolle
Schauspieler

Percy De Rolo

Taliesin Jaffe

Calvin

Mason Gooding

Szymon

Bartlomiej Kotschedoff

Liu Kang

Ludi Lin

Steve Rubell

Jarrod Spector

Brian May

Gwilym Lee

Edward Meechum

Nathan Darrow

Josh Rosza

Steven Krueger

Alan West

San Shella

Alan

Raymond Lee

Bürgermeister Paul Randolph

Scott Porter

Daimler

Edward Hogg

Detective Na

Chul Na

Gustavo Zayas

Javier Beltrán

Jeffrey Burr

Josh Keaton

Matthias

Calahan Skogman

Cherokee Bill

Lakeith Stanfield

Dr. Alvarez

Ronnie Alvarez

Kenneth Sleg

Jun'ichi Suwabe

Peter

Michael Urie

Det. Fisher

Kyle Beltran

Ben Scott

Steven Krueger

Schatzmeister

Dimitri Michelsen

Eli

Charlie Carrick

Gus Charles

C.J. Lindsey

Nacho

David Castillo

Ansel Beauregard

Vincent Rodriguez III

Ace

Mark O'Brien

Gail

Laverne Cox

Gustav Munck

Alan Emrys

Robert

Nnamdi Asomugha

Chris Yen

Alain Uy

Ignacio de la Torre

Alfonso Herrera

Inspektor Janos Téves

Angus McGruther

Ralph Drinkwater

Michael Greyeyes

Kevin Swain

Jamie Demetriou

Edmund Tolleson

Finn Wittrock

Grant Anderson

Leonidas Gulaptis

Luca

Alessandro Tedeschi

Lloyd

Jerzy Gwiazdowski

Joseph Mankiewicz

Tom Pelphrey

Elias

Quentin Faure

George Riley

Aaron Trainor

Garspard

Nicolas Duvauchelle

Brad, Perrys Ex

Bryan Terrell Clark

Gottes Stimme

Laverne Cox

Dan

Saad Siddiqui

Artjom

Kirill Nagiev

Dr. Jahangir

Akbar Kurtha

Jacob

Thomas Gullestad

Joel McHale

Joel McHale

John Smith

Trey Tucker

Dr. Jonathan Tyme

Brandon Perea

Demany

Lakeith Stanfield

Danny

Joel McHale

Bob

Jo Koy

Aladdin (Sprache & Gesang)

Mena Massoud

The Deep

Chace Crawford

Nate Davis

Lakeith Stanfield

Guillaume

Quentin Faure

Vernon Hunter

Arthur Darvill

Rance

Amer Chadha-Patel

Corporal Buddy Lea

Lasarus Ratuere

George 'Tax' Gay

Brandon Sklenar

Counseler Meyer

Valentin Merlet

Anthony Carter

McKinley Belcher III

Rob Reilly

Killian Scott

Cybill

Laverne Cox

Straßenräuber

Maxime Savaria

Lane

Nati Rabinowitz

Grisoni

Franck Gastambide

Floyd

Peter Zackmann

Richard Bright

Charlie Carrick

Escolhido / The Chosen

Renan Tenca

Primo

Stephen Lobo

Grant Ogden

Justen Jones

Rick

Mike Donovan

Jim

Paul W. Downs

Ed Needham

Lakeith Stanfield

Herbert Melliphant

Andrew Lees

Tony Morley

Oliver Chris

Frears

Ed Birch

Glen

Brandon Scott Jones

Cassius Green

Lakeith Stanfield

Christopher Ming

Christopher Goh

Tenya Iida

Kaito Ishikawa

Motoyasu Kitamura

Makoto Takahashi

Ezequiel

José Manuel Muñoz Cheto

Edward Lewis

Sebastian Siegel

Simon

Theo Devaney

Kit Marlowe

Tom Hughes

Edward Foreman

Ryan Sampson

C.C.

Gary Carr

Kurt

Paul Scheer

David

Max Greenfield

Andrew Madoff

Nathan Darrow

Anton

Derek Waters

Andrew Madoff

Nathan Darrow

L

Lakeith Stanfield

Sir George Howard

Hugh Skinner

Officer Jerry

Jim Klock

Bryan

Ken Kirby

Nikolai Dimitrov

Pawel Szajda

Stefan

Tobias Nierop

Garrett Kemble

Aidan Whytock

Simon

Theo Devaney

Daniel

Keir O'Donnell

Flughafenangestellter

J.M. Longoria

CIA Supervisor

Barton Bund

Dean

Sonny Valicenti

Bergdorf-Verkäufer

Rightor Doyle

Bradley

Jeffrey Bowyer-Chapman

Commander Chu

Joon-Gi Lee

Dean

Sonny Valicenti

Milo

Sebastian De Souza

Bob / Lauralie

Bob Turton

Officer Skadden

Rex Young

Red Harvest

Martin Sensmeier

Prinz Albert

Tom Hughes

Ronnie

Max Greenfield

Hate Heywood

Nick Zano

Alex Graham

Luke Mullins

Mick Danzig

Nathan Darrow

Rustom Avari

Ali Momen

Darren

Reece Rios

Christophe

Frank Dillane

Gaku Yashiro

Mitsuru Miyamoto

Valente

Ignazio Oliva

All of Love / Snow Lilly

Kazuma Horie

Andy Fairbell

Andrew Orvedahl

Zuzo

Keith Ferguson

Jianyu Li

Manny Jacinto

Alan Rubin

T.W. Leshner

Commander Chu

Joon-Gi Lee

Haruka Seameyer

Yuuki Kaji

Tazaki

Takahiro Sakurai

Bryce

Ryan Merriman

Jay Ross

Greyston Holt

Derek DuBois

Wade Allain-Marcus

Darius

Lakeith Stanfield

Clarence

Tory Kittles

Leonardo Farkas

Leonardo Farkas

Nathan

Danny Pudi

Chandra Mahalanobis

Shazad Latif

Deathy

Laverne Cox

Corey Douglas

David Wilson Barnes

Garreth Ross

Miles Doleac

Tom Thompson / 2093

Chris Sheffield

Snoop Dogg

Keith Stanfield

Diego

Théo Cholbi

Chen Dawai

Leehom Wang

Smee / Smith

Rasmus Hardiker

Brody

Adam Butcher

Nick Roane

Tom Ainsley

Garfield McGillicutty

Armen Weitzman

Andre Lyon

Trai Byers

Cade Matthews

Jackson Davis

bebrillter Angestellter

Yôji Ueda

John Tavner

Michael Dorman

Dr. Robert Borden

Ukweli Roach

bebrillter Angestellter

Youji Ueda

Peter Van Eyck

Andrew Stewart-Jones

Josh Chan

Vincent Rodriguez III

Marconi

Mark-Paul Gosselaar

Chad

Daniel di Tomasso

Harrison Walters

Jake Robinson

Maler / The Painter

Adam Pally

Mike

Matty Finochio

Jez Nichols

Shazad Latif

Ariel

Nicolás Pauls

Stuffy

Ioan Gruffudd

Justin Li

Jason Wong

Seth

Kaj-Erik Eriksen

Rees

Gruffudd Glyn

Greg

Zach Cregger

Bobby

Brandon Ludwig

Marcus

Mitch Ryan

Duke of Beaufort

Oliver Chris

Aaron Payton

Mark Tallman

Aaron Jones

Patrick Gough

Trip Kisker III.

Charlie Bodin

Dorian Gray

Reeve Carney

Daichi Sawamura

Satoshi Hino

Daniel Acosta

Jay Hernandez

Souma Yagarai

Kosuke Toriumi

Kitamura

Shintaro Asanuma

Doug

Jordan Carlos

Tim

Tommy Dewey

DC Gibbons

Daniel Jillings

Ben Buckner

Adam Shapiro

Ryouma Ichijou

Takuya Eguchi

Shouma Nagisawa

Shin'ichiro Miki

Hector

Robert Santana Jr.

Bater

Ashrut Jain

Bavenod

Julian Adams

Georgy

Yavor Baharov

Rusty

Brendan Sexton III

Bartolomeo Vanzetti

Alessandro Mario

Jake

Dylan Edwards

James

Micah Balfour

Henry / Rick / Jared

Michael Torpey

Batman / Bruce Wayne

Anthony Ruivivar

Killian Gardiner

Daniel DiTomasso

Phil Travers

Mitchell Fink

Tadanori Sera

Hiroyuki Yoshino

Jeff

Zach Cregger

Jon M. Chu

Jon M. Chu

Julien

Clément Roussier

Colin

Christopher Wolfe

Kevin

Andrew Kishino

Bankangestellter

Sergio Buitrago

Jackson

Tory Kittles

Kogan

Vladimir Epifantsev

Zac

Jim Thorburn

Darren Fields

Darren Geare

Dr. Adam Smith

Russell Tovey

Miller

Jake McLaughlin

Aiden

Cory Hart

Ace

Zachary Quinto

Blaze

Ryan Hansen

Aaron Demayo

Tyler Langdon

Nobutaka Oda

Yûichi Nakamura

Seiku Arai

Masaaki Ishikawa

Ryan

Charlie Bodin

Daw

Jim Meskimen

Rashid

James Krishna Floyd

PC Mayfair

Michael Parr

Carlo

Germano Sardinha

Brad

Rich McDonald

Hernandez

Marco Sanchez

Doug

Johann Urb

Andrew Dixon

Michael Sheets

Steve Kowalski

Steve Byers

Apti

Bálint Adorjàni

Andreas

Federico Bonaconza

Jazper

Max Baldry

Brendan Meade

Dylan Skews

Nick

Simon Russell

Jack

Carlucci Weyant

Riley

Guy Burnet

Olav

Jan Gunnar Røise

Angelo

Jacob Anderson

Jason Derulo

Jason Derulo

Christian

Brandon Belknap

Kevin

Eddie Alfano

Cecil Beaton

Christopher Harper

Clive

Drew Nelson

Uryu Ishida

Noriaki Sugiyama

Kent Drake

Adam Sinclair

Cody

Aaron Brooks

Rick 'The Stick'

Rock Anthony

Fried Justine

Jun'ichi Suwabe

Corolla Driver

Kevin Michael Walsh

Allen

Jake Dogias

Mark Sicki

Russell Howard

Ansager

Clinton Walker

Mr. Parks

John Livingston

Andrew Eriksen

Monty Lapica

George Bartlett

David Walliams

Ranjit Chaddha

Vinay Jain

Det. Brian Cassidy (2. Stimme)

Dean Winters

DS Charlie Nelson

Gwilym Lee

Ryan O'Reily

Dean Winters

bebrillter Angestellter

Youji Ueda