Viktor Neumann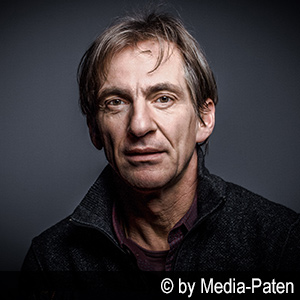 Synchronstimme von:
Alan Cumming, Benoit Magimel, Jon Cryer, Dominic Purcell, Andrew Lincoln
Synchronisiert auch:
Mark Strong, Adam Godley, Dylan Baker, John Cho, Oscar Isaac, Paul Bettany, Jemaine Clement , Raphael Sbarge, Simon Baker, Paul Sparks
Über

Viktor Neumann

:
Viktor Neumann ist die Stimme von Alan Harper aus der Serie "Two and a Half Men", Sheriff Rick Grimes aus der Zombieserie The Walking Dead und Lincoln Burrows (Dominic Purcell) aus der Knastserie "Prison Break". Viktor Neumann studierte an der Folkwang-Hochschule Essen und begann nach vielen Theaterengagemts die Synchronarbeit in Berlin. Untrennbar verbunden ist seine Stimme auch mit dem schottisch-amerikanischen Schauspieler Alan Cumming (James Bond 007 – Goldeneye, The Good Wife).
Filme mit der Stimme von

Viktor Neumann

:
Film
Rolle
Schauspieler

verärgerter Bar-Kunde

Matt Walton

Arlo Whittle

Chris Coy

Blackwood

Brian O'Connor

Huseyin

Yasar Karakulak

Shinichiro Oda / Kim Gwang-il

Jung-min Hwang

Standard

Oscar Isaac

Ambient Room Tech

Woody Schultz

Pater Carmelo

Pater Joseph Medeglia

John F. Kennedy

John F. Kennedy

Lt. Gilette

Damian O'Hare

Präsident Kennedy

Brett Stimely

Alan Harper

Jon Cryer

Rick Grimes

Andrew Lincoln

John Lundkvist

Rafael Pettersson

Arnold Rothstein

Michael Stuhlbarg

Dr. Wen

Charles Rahi Chun

Cameron Hayes

Jamie McShane

SSgt. William Guarnere

Frank John Hughes

Agent Craig Bogle

Rick Gifford

Craig

Currie Graham

Tom Marin

Roark Critchlow

Mikhail Shchadov

Michael Colgan

Papst Cornelius / Lucien

Paul Soter

Chefredakteur Paco

Paco Ochoa

Edgar Bradley

Andrew Lincoln

Alistair Song

Hiro Kanagawa

DS Nick Holness

Alex Ferns

Wacey Hedemann

Paul Sparks

Derek

Ben Wilkinson

Det. Lee Lankford

Jamie McShane

Michael Seaborne

Cal MacAninch

Brennan

Patrick Garrow

Reed Doblin

Kelly AuCoin

Jeff Zufelt

David Leitch

Walter

Leandro Hassum

Sheriff Donovan Galpin

Jamie McShane

Issa Davydov

Niko Tavadze

Claudio Salvagni Anwalt

Lorenzo Acquaviva

Sergeant

N. N.

Antonio

Vincenzo Amato

Vater von Sidonie

Philippe Rebbot

Carl Epstein

Jason Kravits

Vinod Shah

Raza Jaffrey

Morpinet

Jean-Benoît Ugeux

Charles

Rufus Sewell

Eliot Spencer

Christian Kane

Richi

Julián Villagrán

Mickey

Sean Patrick Flanery

Cheung Chung-Bong

Donnie Yen

Raúl

Pau Durà

Ricardo Leão

Leandro Hassum

Geert Wellens

Wannes Cappelle

Strickler

Jonathan Hyde

Ingvar Carlsson

Jonas Malmsjö

Jeff Vahn

Rupert Friend

Kodor

Sergio Rubini

Leonid Kadnikov

Michel Nabokoff

Hörður

Egill Einarsson

Capt. David Ainsworth

Nicholas Rowe

Katsura Kogoro

Issey Takahashi

Mr. Jenkins

Charles Edwards

McIntosh

Gennaro Basile

Eisenbahner

Orlando Jones

Ezras Vater

Andy Gathergood

Juan Miguel Fonseca

Javi Coll

Paul

Rufus Sewell

Catcher

Lionel Abelanski

Jerry

Stephen Stanton

Professor Anthony

James Urbaniak

Gordon Masters

Dominic West

Jorge

Leandro Hassum

David

Marc Beaupré

Derek 'Lucky' Lanshof

Fedja van Huêt

Shelly Metcalf

Jamie McShane

Victor

Alexis Michalik

Typ mit Schnurrbart

Paul Sparks

Sargento

Luis Callejo

Michael Till

Mark Monero

Jeffrey Godefroi

Koen de Bouw

Henry Wingrave

Henry Thomas

Frank Temple

Bertie Carvel

Dr. Bradman

Julian Rhind-Tutt

Filippo

Luca Lazzareschi

Jimmy Barton

Andy Goldenberg

Nick Scott

Ross McCall

Tommy Marshall

Gerard Kearns

Yann

Stéphane de Groodt

Fischhändler

Karafil Shena

Philip Larsimon

Pierre Aussedat

Sammy Navon

Alessandro Nivola

Deputy Prentiss Oakley

Brian F. Durkin

John Grey

Scott Shepherd

Brandon

Daniel Dae Kim

Carlos

Oscar Nuñez

Don Julián

David Sust

Monsieur Courbet

Philippe Spall

Antonius (Attis Vater)

Tony Gardner

Sid Luft

Rufus Sewell

Carlos

Richard Edson

Charlie Hall

Barry Ward

Ralph Konijn

Dragan Bakema

Kerami

Ahmet Mümtaz Taylan

Ip Man

Donnie Yen

Dr. Tim Fanning

Jamie McShane

Brian

Frank Woodley

Dr. Glopman

Patrick Sabongui

Basil Tate

Joris Jarsky

Security Guard Jeff

Chad Bruce

Arthur Dinesen

Anders Mossling

Michael

Rainn Wilson

Patrick

Mathieu Demy

Vater von Alice

Matt Lewis

James Douglas

Diarmaid Murtagh

Assistent

Sergei Gilev

Marc-Antoine de Lenverpré

Gilbert Melki

Phil Remington

Ray McKinnon

Bek

Yuriy Kutsenko

Duncan

John Hawkes

Charles Schneider

Nicolas Vaude

Richard Loffler

Kevin Durand

Jim Phee

Richard Roxburgh

George Wigg

Danny Webb

Harrison Jackson

Gary Cole

Giudice Mattei

Gaetano Bruno

Polizist #1

Gaël Chaillat

Viktor Privalov

Vladimir Vdovichenkov

Jean

Philippe Rebbot

Nabeh Toda

Barclay Hope

Mike

Jeremy Bobb

Coach Atkins

Ron Brooks

Anders

Dan Zahle

Victor Dhar

Raza Jaffrey

Ernie

Neal Huff

Dr. Alexander McDonald

Charles Edwards

Dr. Emerson

Wayne Pére

Frank LeRue

Brett Gelman

Chief Operating Officer

Paul Leonard Murray

Vincent

Stéphane de Groodt

García Serrano

William Miller

Vater

Andy Rodoreda

Arlo Hayes

Duncan Ollerenshaw

Richter Ridell

Angus Wright

Van den Berg

Raymond Thiry

Dr. Nicky

John Stamos

Wladyslaw Lis

Andrzej Chyra

Jotterand

Michel Vuillermoz

Foster

Paul Soter

Paul Gauguin

Oscar Isaac

Gogeta

Masako Nozawa

Offerman

Barlow Jacobs

Hasdai Crescas

Ramón Madaula

Sir Gareth

Kelly Perine

Junji Sagawa

Hozumi Gouda

Junji (als Jugendlicher)

Takehiro Urao

Hugh Crain

Timothy Hutton

Hugh (jung)

Henry Thomas

Philippe Gaillard

Steve Driesen

David Kellergan

Matt Frewer

Alfredo Peluso

Gennaro Canonico

Serge

Jean-Marc Barr

Dr. Mackenzie

Don Hany

Wayne Vincent

Shea Whigham

Jon Cryer

Jon Cryer

Anthony Zamperini

Vincenzo Amato

Ahmed Kamal

Ali Daim Mailiki

Guillaume Delpierre

Laurent Stocker

Pater Gene

Ian Gomez

Robin

Jemaine Clement

Martino

Lorenzo Gleijeses

John Paul

Takahiro Sakurai

Xiang

Donnie Yen

TV-Show Moderator

Michael Beattie

Erzähler

Aaron Mahnke

Phelan

Julian Rhind-Tutt

Leighton Thomas

William Ash

Boris

Alain Blazevic

Exchange President

Stephen Mailer

Lieutenant Milliet

Robin Hodges

Ted Tinling

Alan Cumming

Vetlesen

David Dencik

Detective Frazier

Dean Winters

Lt. Commander Eric Blackburn

Judd Lormand

Carlos Hernandez

Jos Viramontes

Amahl Farouk

Navid Negahban

Nathan Carlson

James Tupper

Dr. Frain

Trevor White

Maes Hughes

Ryuta Sato

Ehebrecher

Chris Gartin

Centaur

Peter Chelsom

Boris

Alain Blazevic

Tinsel / Cop

Kelly Perine

Wesley Quaid

Scott Shepherd

Conrad Harlow

Richard Brake

Clifford Blossom

Barclay Hope

Miles Shortman

Craig Bartlett

Robert Oswald

Steven Robertson

Grayson

Robert Knepper

Harlan Grayson

James Patrick Stuart

James

James Tupper

Louis

Parker Stevenson

Connor Heisel

Darren Pettie

Benoit Lehane

Roark Critchlow

Vincent Philippon

Stéphane de Groodt

Charles Varane

Louis-Do de Lencquesaing

Sam Loudermilk

Ron Livingston

Lt. Col. Vincent Ruwet

Scott Shepherd

Dr. Paulsson

Anders Mossling

Dr. Fred Tansy

Christopher Gabardi

Schwartz

Adam Horovitz

Byron

Tony Torn

Officer Stevenson

Toby Huss

Te Junior

Gary Young

Javier Ospina

Yul Vazquez

Stephen Ray Curtis

Jason Pine

Sgt. Eddie Parks

Paddy Considine

Yvan

Yvan Attal

Gordon Amundson

Richard Pearson

Virgil Beauregard

J.D. Evermore

Richard Savage

Jon Donahue

Walt Camby

Dominic West

Little Victor

Graham Hughes

Mick Rory / Heat Wave

Dominic Purcell

John Constantine

Damian O'Hare

Walter Strickler

Jonathan Hyde

David Tellis

Paul Sparks

Bill

Jon Cryer

Billy Shoemaker

Ben Roy

Brooks Avery

Kevin Rahm

Brant Pope

Jeremy Davidson

Gruppenleiter

Russell Yuen

Bonizzio

Stefano Cassetti

Bruce Schwartz

Scott Shepherd

Rubén Azócar

Victor Montero

D'Intino

Christian Ginepro

Patrick

Vincent Gale

Chris Gaines

Peter Giles

Kardinal Dussolier

Scott Shepherd

DS Winter

Steven Mackintosh

Frank Eide

Pål Rønning

Brione

Brad Morris

Claudius

Kelson Henderson

Cassius Dio

Edwin Wright

Ray

Sam Frears

Varela

Luciano Cáceres

Marcus Crassus

Wesley Dowdell

Vijay Sha Gopal

Raghunath Manet

Antoine Le Bihan

Benoit Magimel

Jack Kang

Daniel Dae Kim

Hal

Gary Wilmes

Jonas

Guy Pearce

Harold

Dean Wareham

Ricky

Dan Domingues

Agent Hoffman

Scott Shepherd

David Raymond

Kenny Johnson

Gabriel

David Dencik

Omer

Giorgos Symeonidis

Old Nick

Sean Bridgers

Alex Vogel

Aksel Hennie

Antipas

Eoin Macken

Talbot

Enzo Cilenti

Boaz

Jemaine Clement

Joe

Kevin Corrigan

James Nelson

Christopher Nathan Bortz

Reverend Murray

Lothaire Bluteau

Agent James Hill

Rocky Marshall

Johan Mortensen

Trond Teigen

Joseph von Arimathäa

Kevin Doyle

Mohinder Suresh

Sendhil Ramamurthy

Arthur Davenport

Cary Elwes

Deputy

Brimah Watara

Markus Huseklepp

Darren Boyd

Paul

Laurent Bateau

Zahnarzt

Laurent Poitrenaux

Ip Man

Donnie Yen

Joel

Ben Chaplin

Logi

Magnús Jónsson

Jack Kang

Daniel Dae Kim

Dr. Anton Vanko

Costa Ronin

Bankmanager

Rolf Lydahl

Leo Wolinsky

Dan Futterman

Archibald Stanley

Matt Frewer

Huddleston

Al Sapienza

Leon

Socratis Otto

Marco Amorini

Antonio Cupo

Der Bankier

Bruno Todeschini

Montgomery Clyde

Tim Downie

Philippe

Jean-Paul Rouve

Deutscher Corporal

Branko Tomovic

Frank Kruse

Kevin Rahm

Baseball Dad

Michael Buscemi

Sailor O'Connor

Dominic Purcell

Fletcher

Adam Horovitz

Ricky Miller

Jon Cryer

Bill Wilkerson

Steven Weber

Andrew Lippman

Maury Sterling

Wijnblad

Anders Johannisson

Barrold Weinbergerstein

Michael Kostroff

Dr. Alan Farragut

Billy Campbell

Shimada

Yutaka Aoyama

Gérard de Nerval

Bruno Lochet

Barouhcruz

Ryouta Takeuchi

Pi

Laurent Stocker

Gendarm

Serge Bozon

Zuriel

Socratis Otto

Prof. Barois

Jacques Gamblin

Agent Flatweed

Sam Jaeger

John Ehrlichman

Colin Walker

André

Mehdi El Glaoui

Meghji Bhai

Abhimanyu Singh

Christopher Corwin

Anthony Flanagan

Maurice

Roger Bart

Jerry Fogel

Stephen Kunken

Alastair Caldwell

Stephen Mangan

Steve Rogers / Captain America

Roger Craig Smith

José

Hugo Silva

Police Inspector #1

Jan Bijvoet

Agent Todd

Vincent Leclerc

Aldrich Killian

Guy Pearce

Reverend

David Aldorf

Brian McDonald

Eddie Cibrian

Barren

Dominic Purcell

Riley

Toby Stephens

Dr. Andrew Malraux

Dominic Purcell

Jim Baxford

Dominic Purcell

Captain Harley Grace

Jonathan Vane

Anthony Amado

Alessandro Nivola

Terry Hobbs

Alessandro Nivola

Mellies

Jean Rochefort

König Roland II.

Travis Willingham

Ryan Hardy

Kevin Bacon

Leocritos

Bruno Todeschini

Gabriel Korda

Mikko Leppilampi

Cash Windgate

Tom Schanley

Dr. Frank Foster

Shaun Smyth

Bob Paris

Kevin Rahm

80s Epic Voice Guy

Jon Bailey

Stephen

Ben Chaplin

Lambert

Bruno Todeschini

Nikolai

Darius Miniotas

Guillaume Van Effentem

Thierry Frémont

Jean-Paul Chappuis

Pierre-Isaie Duc

Whitehead

Reece Shearsmith

Barry

Dylan Kussman

Mingus

Chris Rock

Captain Reese

Jaime FitzSimons

Phil Simmons

Tom Everett Scott

Jim

Socratis Otto

Matt

James Tupper

Rob

Ed Stoppard

Don Pedro

Reed Diamond

Admiral McCraven

Christopher Stanley

Edward McPherson

Christopher Evan Welch

Ove Høegh-Guldberg

David Dencik

Steve Caprio

Trevor Long

Simon Denner

Eric Ruf

Franklin Crudstaff

Ron Livingston

Wanderer

Richard Lumsden

Joost

Jeroen Spitzenberger

Albert

David Savard

Philippe Deville

Bruno Todeschini

Gorman

Joseph Mawle

Onkel Murf

Robert Funaro

Dr. David Rosen

Vito DeFilippo

Brian Valentine

Richard Ruccolo

Guddu

Murari Kumar

Paul Lederman

Benoit Magimel

Roland

Alessandro Nivola

Spencer

Dean Wareham

Adrian Gish

Robert Knepper

Felix Durrell

Rupert Graves

Pater Soubiran

Christophe Grégoire

Grant Stevens

Currie Graham

Mark Orlando

Ken Marino

Gronkjaer

Morten Hauch-Fausboll

Peter

Michael Ehlers

David Orton

Robert Portal

Mark Mitchell

Rob Huebel

Piero

Emilio Solfrizzi

Dick Cavett

James Urbaniak

Dick Cavett [Archiv]

Dick Cavett

Tic-Tac

Benoit Magimel

Außenminister

Andrew Woodall

Simon

Trevor White

Roger der Boss

Joel McHale

Jaxon

Dominic Purcell

Dave

Nat Faxon

Lacombe

Julien Boisselier

Colin

Alex Manette

Brad / Barnabus

Steven Mackintosh

Hugo Geoffroy

Laurent Lucas

George Valentin

Jean Dujardin

Bortnik

Michal Zurawski

Rick

James Tupper

Dr. Olsen

Matthew Glave

Sergeant

Stuart Graham

Ed Beker

Yancey Arias

Father Harlan

Patrick Treadaway

Paul Cutler

Gabriel Macht

Jeffries

Pip Carter

Charles

Bruno Todeschini

Mounir

Maher Kamoun

Tak Mashido

Karl Yune

Mr. Virgin

Serge Bozon

Darko

Karel Roden

Damien Karp

Reed Diamond

Morgan Ross

Charles Esten

Stuart Gardner

David Alan Basche

David Clarke

James Tupper

Giovanni Colonna

Karel Dobry

Tom Blice

Tom Goodman-Hill

Monty Beragon

Guy Pearce

Angelo

Nino D'Agata

Roger Kadar

Robert Sean Leonard

Everett Henson

Scott Cohen

Jerry

Rob Huebel

Verdier

Bruno Todeschini

Jay

Jonny Phillips

Aung San

Phoe Zaw

Wystan H. Auden

Pip Carter

Obi-Wan Kenobi

David Scott

David

Øystein Røger

Waffenverkäufer

J.D. Evermore

König Edward VIII.

Guy Pearce

Produzent

Jay Russell

Bernhard

Falk Hentschel

Don

Ele Bardha

Michel Masselot

Thierry Frémont

Gary

Bill Brochtrup

Hunter Patrick

Noah Wyle

Alex

Guy Pearce

Sebastian

Alan Cumming

Carlo Rudio

Stefano Cassetti

Oscar Warnebring

Sven Ahlström

Jimmy

Sean Patrick Doherty

Chopper Comms Commander

Tommy Campbell

Anthony Trent

Jonathan Cullen

Howard Hendricks

Simon Baker

Dr. Lerner

Scott Cohen

Inspektor John Acheson

Paul Bettany

Dr. Lawrence Gordon

Cary Elwes

Einbrecher

Thierry Frémont

Jack Lessenberry

James Urbaniak

Doktor

Matt Blue

Der Brite

Gary Daniels

Zander

Gary Daniels

Grant Camper

Craig Nigh

Leif

Nicolaj Kopernikus

Ethan Belfrage

Cary Elwes

Hans Schmid

Daan Schuurmans

Parker Kincaid

Tom Everett Scott

Villard

Thierry Godard

André Ferron

Bruno Lochet

Woody

Robert Cavanah

Gelman

Jason Kolotouros

König Edward VIII.

Guy Pearce

Matthew

Bronson Pinchot

Croupier

Andrei Araditz

Ludo

Jean Dujardin

Alexis

Alan Cumming

Martial

Cyril Couton

Piero

Emilio Solfrizzi

Anthony Eden

Anthony Calf

Dale Dinkley

Kevin Dunn

Jai Wilcox

Sendhil Ramamurthy

Vincent Torrella

Jérôme Robart

Cotton Marcus

Patrick Fabian

Gordon Way

Anthony Howell

Ip Man

Donnie Yen

Chin Ho Kelly

Daniel Dae Kim

Hugh Collinson

Andrew Lincoln

Alan Harper

Jon Cryer

Étienne Meunier

Benoit Magimel

Peter

Rob Boltin

Patrick Lane

Jamie Harris

Chen Zhen

Donnie Yen

Lt. Col. Charles 'Casey' Jones

Chris Vance

Rikkert's Chef

Hans Teeuwen

Rikkert's Chef

Hans Teeuwen

Evan

Joel Gretsch

Thomas Blyton

Philip Wright

Leif

Nicolaj Kopernikus

Vater Thompson

Jon Cryer

Fotograf Max

Mark Bellamy

Bertrand

Laurent Bateau

Kabinettsdirketor

Patrick Hastert

Kaki

Vidula Javalgekar

Hank

Richard Ruccolo

Aaron Mason / Ethan

Philip Winchester

Tom

J.C. MacKenzie

Boris Ivanovich

Igor Savochkin

John Derek

Michael Hayes

Dr. Roger Fallon

James D'Arcy

Dave

Ross McCall

Teo #2

Thierry Neuvic

Eric Vincke

Koen de Bouw

Arzt

Jérôme Kircher

Adam Green

Jim Abele

Eddie Walzer

Paul Schulze

Dr. Chris Sands

James Tupper

Eli Gold

Alan Cumming

Alvin Klein

Peter Stebbings

Jack O'Malley

Tom Cavanagh

Jack

Billy Campbell

Matt Hughes

Sam Hazeldine

Brian

David Sutcliffe

Dr. Nicholas Rush

Robert Carlyle

Officer Billy Dewey

C. Thomas Howell

Daniel Graystone

Eric Stoltz

Ryo Hagane

Shou Hayami

Sum Chung-Yang

Donnie Yen

Yuri Koralev

George Zlatarev

Yuri Koralev

George Zlatarev

Kip Miller

Mitch Rouse

Graham

Scott Heindl

Makler

Malcolm Gets

Thomas Deleuran

Anders W. Berthelsen

James Stewart (im TV)

James Stewart

David Hernandez

Joel Bissonnette

Bill Maher

Bill Maher

DJ Juice

Shiran Nicholson

Didier

Yannick Renier

Chris Van Outryve

Koen de Bouw

Deacon

Jeff Anderson

Richard Mandelbrot

J.C. MacKenzie

James 'Jim' Lawrence

Sebastian Spence

Henrik Linde

Henrik Prip

Erik

Henrik Dahl

Bruno

Eduardo Von

Ip Man

Donnie Yen

Bridey Flyte

Ed Stoppard

Henry AA

Carl Dillard

Chuck

Denis O'Hare

Donny

Michael Landes

Kevin

Christian Campbell

Pierre Desfontaines

Julien Boisselier

Mr. Edwards

Joe Lo Truglio

Carl Lindner

John Stamos

Police-Officer Steve Owen

Rodger Corser

Barry Winter

Gordon Michael Woolvett

Anil

Shaun Smyth

Eliot Spencer

Christian Kane

Atom|Ryan Choi

James Sie

Präsident Edward Taylor

Steven Culp

Kenny Kagan

David Alan Basche

Sir Gwaine

Eoin Macken

Gary Brooks

Jay Mohr

Leo Cardoza

Chris Kattan

Wu Ti

Mark Cheng

John McCarthy

James Marsters

Corbin Sellars

Matt Cooke

JD

Zakir Hussain

Jonas

Anders W. Berthelsen

Jon Forster

Neal McDonough

Émilien Coutant-Kerbalec

Frédéric Diefenthal

Dr. Michael Covington

Rob LaBelle

Dan

Paul McNeilly

George Grieves

Tom Cavanagh

Jorge 'George' Ruiz

Yul Vazquez

Christian Ellis

Rudolf Martin

Colonel Steven Shay

David Chisum

FBI Agent John Ash

Joe Flanigan

Tony

Ken Marino

Kenny Kagan

David Alan Basche

Dan

David Shatraw

Peter Morris

Gabriel Hogan

Ty Pennington

Ty Pennington

Darren Dooley

Roger Haskett

Polizist Joven

Jorge-Yamam Serrano

Mark Law Pui Keung

Mark Cheng

Marine Sergeant Thomas

William Mapother

Major James Fox

James Fox VII

Freeman Heller

Mike Falkow

Grey

Stephen Huszar

Hal

Joe Forbrich

Dr. Robert Freedman

Nicholas Gleaves

Icepick

Jay Whittaker

Joe Meddler

Leon Ford

Jean-Claude

Benoit Magimel

William Heelis

Lloyd Owen

Mark Butler

Mark Butler

Robert Harlin

Rob Lowe

Mr. Heyer

Guy Henry

Joey Henrickson

Shawn Doyle

Paul

Will Forte

Richard

Jon Hamm

Agent Whieldon

Jim Thorburn

Jack Slattery

James Tupper

Benawi

Daisuke Namikawa

Therapeut

Reed Diamond

Rick Bryan

Trevor White

Tanis

Steven Mackintosh

Terry's Verlobter

Michael Showalter

Osaka-Reporter

Michael Brownlee

Dickens

Brendan Fletcher

Mr. Wickham

Rupert Friend

Billy

Josh Randall

Jeffrey

Jeremy Sheffield

Craig Kilborn

Craig Kilborn

Banker

Matthew Dixon

Soloman Davis

Linden Ashby

James

Steve John Shepherd

Donnie

William Mapother

Reynalds Reiterbote

Matthew Rutherford

Michel Strogoff

Bruno Todeschini

Sébastien

Guillaume Canet

Franck

Gilbert Melki

Rodeo Clown

Tom Carey III

Capitaine Antoine 'Walk'n' Marchelli

Benoit Magimel

Alan Sinclair

Geoffrey Streatfeild

Mark

Chuck Stubbings

Eddie Scott

Matt Ross

Sam Carraclough

John Lynch

Dr. Graham Knight / Lucas Insley

Tate Donovan

Thorkel

Ronan Vibert

Loki

Alan Cumming

Matt Farris

David Christoffel

Dave

Ross McCall

FBI-Agent

Robert Mammana

Vikar

Adam Godley

Grenzbeamter

John Keogh

Jeff Constant

Alan Cumming

Lincoln Burrows

Dominic Purcell

Stefan Lindman

Ola Rapace

Victor Griffith

Hiroshi Tsuchida

Vater Nicolas

Bob Mortimer

John Travolta

John Travolta

Matthieu

Akio Nakamura

Raymond

Daniel Dae Kim

Tran

Karl Yune

Perch Perkins

Dee Bradley Baker

Ron Harding

Ron Butler

Tim

Alessandro Nivola

Reda

Benoit Magimel

Hal Montgomery

Whip Hubley

Sean

Michael Desautels

Peter

Zak Orth

Lance Armstrong

Lance Armstrong

Bobby Whitman

Eion Bailey

Phil

Philip Pavel

Glenn Odekirk

Matt Ross

Parker

Sasha Roiz

NATO Experte

James Derrick

Alex

Ted Raimi

William Dalton

Romain Berger

Orville Wright

Luke Wilson

Pater Gregg

Jonathan Wilson

Kenny

Gerard Monaco

Joe

Diego Wallraff

Bob Miller

John Hines

Pete

Peter Serafinowicz

Sheriff Don Lamb

Michael Muhney

Leon

Larry Cedar

Billie Blaikie

Alan Cumming

Zebra

Yasunori Matsumoto

Persnikitty / Sir Roland

Alan Cumming

Mark

Alan Cumming

Nachrichtensprecher

Michael Brownlee

Tracking Technician

Kevan Ohtsji

Labortechniker

James Urbaniak

Jim Halsey

C. Thomas Howell

Dr. Stephen Maturin

Paul Bettany

Snoop Dogg

Snoop Dogg

Mark

Andrew Lincoln

Paul Cabot

Alex Carter

Alex Sheldon / Adam Shipley

Luke Wilson

Christopher Lewis

David Boutin

Sgt. Thomas Chamberlain

C. Thomas Howell

Jay Gelb

Charlie Schlatter

Lev Ruach

Jeremy Birchall

Fahrer des Tiertransporters

Dameon Clarke

Aidan Stone

Bradley Cooper

Det. Chris Lassing

Justin Chambers

Carter Buckley

Billy Campbell

Dan Scott

Paul Johansson

Kampfdroiden

Matthew Wood

Nigel

Julian Richings

Bastien

Guillaume Canet

Pete lanyard

Todd Boyce

A.P.C. Johnson

Gregg Edelman

AFRAT Specialist Stubbs

Jason Antoon

Eugene (alt)

George F. Miller

Typ vom Wachschutz

Noam Jenkins

Jurek

Michal Zebrowski

Private Clifton

Luke Mably

Hal Sinclair

Jay Mohr

Fegan Floop

Alan Cumming

Farrell

Larry Holden

Barry

Henry Thomas

Liberius

Rick Warden

Officer Dix

Reggie Gaskins

Det. Terry Crowley

Reed Diamond

Brutus

Ian Duncan

Peter

Stephen Dunham

Claudio

Luigi Lo Cascio

Andy

Alex Lundqvist

Andy Demetrios

Alex Lundqvist

Tom

Jonathan Dokuchitz

Sly

Gideon Emery

Brint

Alexandre Manning

Agent Thomas

Timothy Omundson

Charles

Jon Hamm

Prince Edward Albert Victor

Mark Dexter

Priester

Jeff Cesario

Joe Therrian

Alan Cumming

Fegan Floop

Alan Cumming

Capt. Oliver Naquin

Shea Whigham

Chris Scarpa

Andy Davoli

Etienne Boisset

Guillaume Canet

Kulindos

Kal Weber

Lt. Chris Burnett

Owen Wilson

Hayter

Nicholas Moss

Carson Daly

Carson Daly

Bankier

Stefan Nelet

Deutscher Nachrichtenoffizier

Clemens Schick

Teddy Carter

Eric Stoltz

Agent Samuels

Scott William Winters

Johann

Milos Timotijevic

Dean Mace

Adrian Holmes

Thad Stiles

Christopher Heyerdahl

Pater Hubert Mallone

Risteard Cooper

Buzz Demond

Tedd Taskey

Pater Henri

Hugh O'Conor

Jasper

Dominic West

Rex

Dan Duran

Rocky

Darren Shahlavi

Tom Chandler

Mark Feuerstein

Danny Gershman

Guy Roberts

Dave Martin

Howard Bilerman

Agent Gary Phillips

William R. Moses

Pascal Broyer

Julien Boisselier

Fred Creath

Shaun Johnston

Andy Bednarik

Ben Shenkman

Alex Lesman

Billy Burke

Wilbert 'Tibbs' Thibodeaux

Michael Kelly

Nick Parks

Daniel Lapaine

Carl

Clinton Walker

Schauspieler (Film im Film)

Matthew Modine

Tom Bartlett

Sean Patrick Flanery

Barry

Bruce Campbell

Janowitz

Warwick Young

Bill Malone

Michael Shanks

Rick

William Ash

Joey Murphy

Boyd Kestner

Keaton

Neill Barry

Juancar

Javier Albalá

J.P.

Gilbert Melki

Freddy

Sean Nepita

Jerry Stanton

Eric Lutes

Alik

Merab Ninidze

Ferdinand Rupitsch

Christien Anholt

LeShaun

Kyle Rivers

Erzähler

Hiroaki Hirata

Lindsey McDonald

Christian Kane

Lindsey McDonald

Christian Kane

Walt Lawson

David Lewis

Prinz Henry

Dougray Scott

Rudy

Christian Potenza

Wilkins

Benjamin Ratner

Dwarfman

Yasha Louie

Ferris

John Slattery

Stucky

John Hawkes

Cornwall

Thomas Lockyer

Alexander Lemley

Christopher Orr

Anton

Tyler Christopher

Eric Draven

Mark Dacascos

Winston

Steven Mackintosh

Winston

Steven Mackintosh

Brett Cambell

Jay Mohr

César

Eduardo Noriega II

Bud McVie

Bo Eason

Jerome

Felix Williamson

Assistent

Daniel Dae Kim

Neil

Joel Tobeck

junge Peter

Alan Cox

Paulo Picasso

Dominic West

Reverend Rigger

Keith Reddin

Sam

Walton Goggins

Gus

Mark Fite

Agent Carson

Raphael Sbarge

Off. Gary McDermott

Dana Ashbrook

Rady

Tim Guinee

Professor

Bradley Whitford

Konstantin

Frédéric Gorny

Seiichirô Aoki

Hideyuki Tanaka

Andy Miller

Joe Petcka

Allan Hopper

Greg Cruttwell

Hotelmanager

David Kriegel

Alan

Kevin Durand

Dr. Robert Yeats

Eric Stoltz

Tieh

Toshihiko Seki

Wataru

Kazuki Yao

Steward

Horst D. Scheel

Brooks Avery

Kevin Rahm

Guy de Glastonbury

Patrick Malahide

Claude

Alain Souchon

Jimmy Doyle (neue Szenen)

Robert De Niro

Ringo

Peter Martell

Dubois

Claude Brasseur

Harry Ware

Phil Brown